Navratri 2023: The Vibrant Celebration of Goddess Durga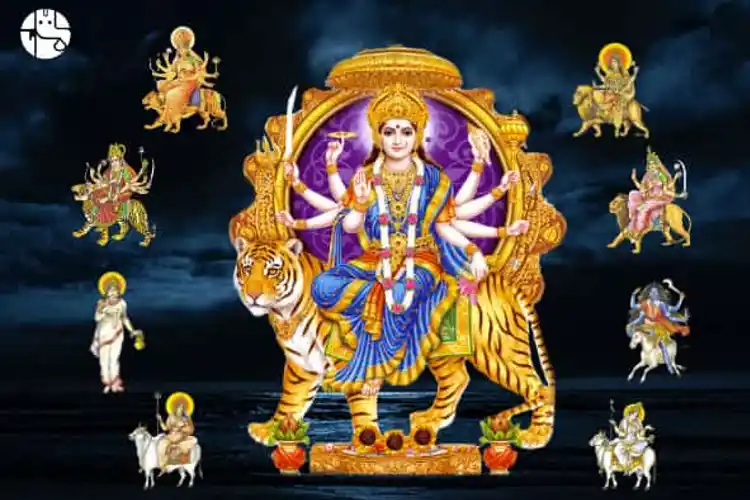 About Navratri 2023:
India's own Tomorrowland, the Sharad Navratri (yes, there are other types of it, we will explain them down below), will kick-off from Oct 15. In the Hindu religion, it is just as significant as Diwali and perhaps celebrated with even more enthusiasm. Though Navratri's religious and spiritual significance can be observed all around India; Gujarat, Maharashtra, Punjab, Rajasthan, and West Bengal are the states where it is celebrated with the most zeal.
In West Bengal, it is celebrated as Durga Puja or Durga Pujo. The whole city of Kolkata can be seen packed with pandals with various handmade statues of Goddess Durga. It is truly a sight to behold, an experience to have once in a lifetime. In Gujarat, Navaratri is the representation of the nightlife this dry state is deprived of. There are costumes, loudspeakers, and packed stadiums of people full of excitement, performing Garba. Every street is lit up, every pair of feet moving on the notes of "Tara Vina Shyam", "Chogada…", and many more!
Navratri, translated literally to Nine-Nights, is a celebration of nine forms of the Devi Adiparashakti (the supreme being, creator and destroyer of the elements). She also represents femininity among the deities. Navratri is thus also a celebration of feminism, an ode to Hinduism's belief 'yatra naryastu pujyante…'. Gods and demigods also celebrated Navratri in the times of even Ramayana and Mahabharata. According to the Hindu Calendar, Navaratri falls in Ashwin month in the season (Ritu) of Sharad, thus the name 'Sharad Navratri or Sharadiya Navratri'. Here are the other types of Navratri:
---
Other Forms Of Nine-Day Celebration And Fasting:
1) Sharad Navratri: 
Falls on Shukla Paksha of Ashwin Month, usually September/October of Gregorian Calendar.
2) Chaitra Navratri or Vasant Navratri:
Falls on Shukla Paksha of Chaitra Month, usually in March/April. This also marks the new year of Hindu Lunar Calendar.
3rd and 4th) Ashad Navratri & Magha Navratri:
These are called Secret Navratris and are not for common people. These are observed by Sadhaks to attain the Siddhi.
---
Stories Behind This Festival:
There are two versions of the Navratri stories, one stated in Bhagwat Puran and other in Markandey Puran. If you ask us, the more, the merrier. It helps you understand your religion better, and the stories also have a message in the end, what's to lose?
According to Devi Bhagvat Puran, during the battle of Ramayana, on the eighth day of the waning moon of Ashwin month, Lord Brahma awakened the sleeping mother goddess herself, Durga. Durga explained how to worship her during the Navratri for nine days, and that was exactly carried out by  Lord Rama during the Mahanavratri. He killed Ravana on the tenth day, on Vijaya Dashmi or Dussehra.
The story from Markandey Puran is the one you are most likely to have heard. It is about the demon king Mahishasura, who after worshipping Brahma, was blessed with immortality. Soon, he started harassing the innocent, and the Gods asked help from Shiva. The Trinity of Brahma, Vishnu and Shiva created a female warrior, Adishakti Durga to defeat Mahisasura. Mesmerised by her beauty, the demon king approached her for marriage. The Goddess accepted it, but with one condition that Mahisasura has to defeat her in the battle. The ever-proud Mahisasura agreed, and the battle lasted for nine nights (hence Navratri). At the end of the ninth night, Adishakti Durga beheaded Mahisasura, and from there comes the name 'Mahisasur Mardini'.
Navratri celebrates these victories of good over evil, and how the 'Shakti' was able to defeat a proud demon when the Gods of all three Lokas were terrified by the latter.
---
---
Vidhi or Rituals:
As we have mentioned, Navratri holds different significance  in different states. In northern India, the ancient art of Ramleela comes alive during the days of Navratri and Dussehra. West Bengal is famous for worshipping Durga for nine days with vivacious idols of the Goddess. For Gujarat, Navratri is one of the state's prime festivals, and people celebrate it with the folk dance of Garba. Streets and auditoriums are filled with people who perform this playful dance in circles, but before they begin, an Arti is offered to the Adishakti.
Navratri is thus a result of a playful combination of religion and spirituality with the artful festivity. It also promotes the symbolic victories of good over bad, an evergreen message to ponder upon.
---
Auspicious Muhurats in 2023:
For different religious rituals of Navratri, it is vital to know the right muhurat. For example, in many states, ghatasthapana or kalashstaphana ritual. It marks the beginning of Navratri and it needs to be performed at the auspicious time of the day.
---
Ghatasthapana Muhurat:
Date: October 15, 2023
Muhurat: 11:44 AM to 12:30 PM (Duration – 00 Hours 46 Mins)
Durga Ashtami is also one of the most important days of Navratri. For Durga Puja in Bengal, it is the eighth day of the festival.
---
Durga Ashtami:
Date: October 22, 2023
Ashtami Tithi Begins:
09:53 

PM

 

on

 Oct 21, 2023
Ashtami Tithi Ends:
07:58 

PM

 

on

 Oct 22, 2023
On Dussehra, Durga Visarjan is also performed. The Vijay Muhurat is considered auspicious for new beginnings and purchases.
---
Vijay Muhurat:
Date: Oct 24, 2023
Vijay Muhurat: 02:26 PM to 03:14 PM
Dashami Tithi Begins:
05:44 

PM

 

on

 Oct 23, 2023
Dashami Tithi Ends:
03:14 

PM

 

on

 Oct 24, 2023
---
---
---
Get 100% Cashback On First Consultation