About Gangaur Celebration 2022 - The Festival Symbolizing Marital Bliss.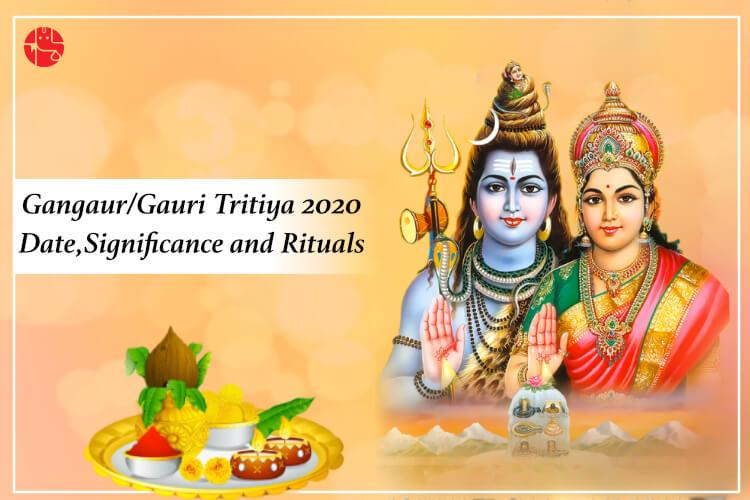 Gangaur  is a colourful festival celebrated with great fervour and devotion by women mainly in the North Indian states, especially Rajasthan, Uttar Pradesh, Madhya Pradesh, Haryana and Gujarat. It commences from March-April and signifies the celebration of spring, harvest and marital fidelity. Gana stands for Lord Shiva and Gaur stands for Gauri or Parvati who symbolizes 'Saubhagya' (marital bliss). Unmarried girls worship Shiva-Parvati to get blessed with good husbands while married women for the well-being and longevity of their husbands.
Gangaur/ Gauri Tritiya 2022 - Date & Time 
Gangaur Puja on Sunday, April 03, 2022
Tritiya Tithi Begins - 02:08 AM on Apr 03, 2022
Tritiya Tithi Ends - 03:24 AM on Apr 04, 2022
Gangaur or Gauri Tritiya will be falling in the Shukla Paksha of Chaitra, in the Ashwini Nakshatra of year 2077 of the  Vikram Samvata as per the Hindu calendar. It will be celebrated on Friday the 3rd of April, 2022.
Significance of Gangaur
As the Gangaur storyline goes, Lord Shiva and Goddess Parvati started off on a small sightseeing trip accompanied by Narad Muni. Some women belonging to the rich class desired blessings and started cooking for them. Unable to finish off with their preparations, women from the poor class managed to appease Lord Shiva and Goddess Parvati with their delicacies. Finally, when the rich women came to Goddess Parvati, she felt guilty of not giving them blessings. She instantly scratched her finger to bless them with her blood droplets.
The festival marks the 1st day of Chaitra, the day after Holi and continues for 16 days. It is essential  for a newly-wedded girl to observe this day for 18 days for making her marriage successful whereas it may be beneficial for an unmarried girl to observe fast for the same number of days. Women decorate their hands with beautiful mehndi designs during this phase. The festivities of Gangaur also signify the arrival of the awaited Spring Season.
Do you need a career boost-up? Buy the Career Ask A Question Report and get proper guidance.A detailed report can help you in pursuing the right path and making your dreams come true.
Rituals And Celebrations
Women who observe Gangaur wake up early, bathe and worship clay idols of the deities. They offer ghee lamps, incense, sweets and flowers with great devotion.
It is a religious belief that after a temporary long sacrament, Lord Shiva and Goddess Parvati were reunited on this day. A bonfire is made and women  take circles to worship and also pick some burnt ashes to sow wheat and barley in it. The seeds get germinated by the time the festival commences.On the seventh-day unmarried girls carry earthen pots with a hole and a lamp lit inside it. 'Ghoulia' as they call it are then carried with songs praising Goddess Parvati. The pot is moved around houses to collect small presents, cash, sweets, jaggery, ghee,oil,etc.
Gauri's Departure
Women and girls  gather to dress up these idols to make them resemble living figures. Processions are held at auspicious timings where married women carry idols of Goddess Parvati on their heads and sing departure songs. The first two days, the idols are brought back home after offering water and flowers. On the third and last day, the procession of these women moves with idols placed on their heads. The festivities finally conclude on the 18th day as the bridegroom who is Lord Shiva, accompanies his bride Goddess Parvati to his abode. The procession includes beautifully adorned camels, horses, elephants and devotees keeping up with the drumming sounds. Children carry the idol of Goddess Parvati in a beautifully decorated gold and silver palanquin. Finally, they bid a teary farewell as Gangaur comes to an end. At the end of the procession, the deities are immersed in a nearby lake or river. If immersion is not possible, they are respectfully placed in a closeby temple of Lord Shiva or Goddess Durga.
On this auspicious occasion of Gangaur/Gauri Tritiya, get rid of all your marriage problems. Buy our Remedial Solutions Online!
To Get Your Personalized Solutions, Talk To An Astrologer Now!
With Ganesha's Grace,
The GaneshaSpeaks.com Team