Life is Better With Friends: Know When and Why to Greet Friendship Day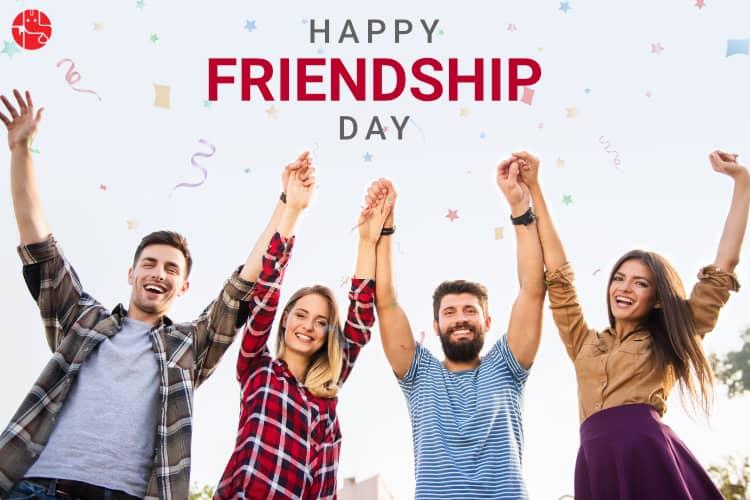 A friend in need is a friend indeed! We have heard this phrase, and many of us ought to live by it. Even Hindu mythology portrays a deep and loving bond shared by Shri Krishna and his childhood friend Sudama. Have you also found someone like this as your friend? Hold on to them for life, as such friends are the rarest of all. Friendship is indeed glory in itself and the greatest of all bonds. Celebrating this sweet bond in the form of Friendship Day or Friend's day remains to be an immense feeling for all. 
Date of Friendship Day 2020
Friendship day dates may vary across different countries. Internationally, it is celebrated on the 30th of July every year but in India, Friendship Day is celebrated on the first Sunday of August month. This year, Friendship Day will be celebrated on 2nd August 2020 in India.
Friendship Day History
Dr. Ramon Artemio Bracho came up with the idea of celebrating World Friendship Day when he was enjoying dinner with friends on 20th July 1958 in a town named Puerto Pinasco of Paraguay. Thus, he founded the World Friendship Crusade to foster friendship everywhere, ignoring a person's religion, race, or color. 
The World Friendship Crusade proposed the date of International Friendship Day to be on 30th July. After years passed, i.e. on 27th April 2011, the General Assembly of the United Nations accepted the proposal, Hence, the date of International Friendship Day was adopted as 30th July officially in Paraguay and many other countries. However, in India and a few other countries, Friendship Day is celebrated on the first Sunday of August.
Importance of Friendship Day
"Your friend is the man who knows all about you, and still likes you." - Elbert Hubbard
This saying clearly portrays a friend's role in an individual's life. Your friend admires and respects you for who you truly are and doesn't mind your flaws. 
Do you really need a friend in your life? Well, we can bet, everyone is going to raise their fingers for it. We all need friends at each and every point of life. Whether we are in school, college, workplace, or old age, the importance of friends in our life has no bars. A true friend is like a gem, rare and hard to find but if you've found one, hold onto them. Therefore, Friendship day was declared to celebrate those individuals who are friends for life.
One can always rely on a friend, as they are always there on their back, when in dire need. A friend shows deep loyalty and trust, and hence they are the closest to our hearts. Friendship Day represents the importance of this well-tuned relationship that ultimately helps spread love, peace, and brotherhood across the World.
A friend is someone whom we can share everything with. Whether we feel blue or are at the top of the world, it is the friend who is there on the right. They're like guiding light who support us to walk through the dark and tough times in life. Not only this, but they can also fit very well into any relationship of our lives. They provide us warmth like a mother, help grow like a father, tease us like a sibling, guide us like teachers, and tell life-learning stories like grandparents. They are our partners in crime, and no matter what, they will be by our side across all spheres of life. This day is celebrated to remember all the wonderful memories of our beautiful companionship.
Celebrating Friendship Day 
The most significant part of celebrating Friendship Day is tying colorful and vibrant friendship bands on each other's wrists to symbolize being "friends forever". Along with India, these bands are well-known in South America and other countries. Many friends also tie bracelets on their friend's wrists to mark the day. 

With cake cutting and spreading sweetness around, the day goes by exchanging memorable gifts such as coffee mugs, books, flowers, etc. Another special thing is to give greeting cards with friendship day messages for one's best friend and hanging out at places like restaurants, cafes, or movies.

Some also celebrate the day at home with their family, indicating they're friends first. Nowadays, friendship day is vastly celebrated with people sending gifts globally and greeting each other online. Be it near or far, friends never miss the chance to showcase their love and support for each other on this day.
Happy International Friendship Day 2020 
Friendship Day is all about taking a trip down the memory lane and reliving all the madness that one has been through with friends. It is on this day that people remember the good times and get back to being friends again from being broken.
To Get Your Personalized Solutions, Talk To An Astrologer Now!
With Ganesha's Grace,
The GaneshaSpeaks.com Team