Aadi Perukku (Pathinettam Perukku) - Significance & Special Rituals Of This Auspicious Day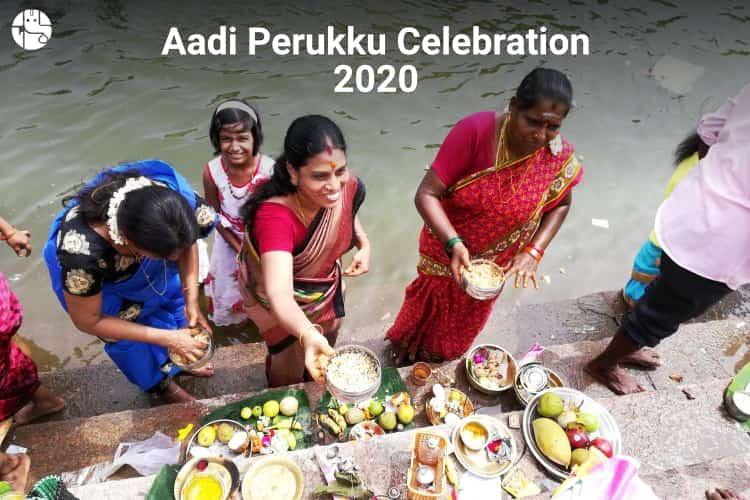 India is a vibrant country whose rich culture and history have been preserved for decades and will continue to be preserved in the future. Festivals are a huge source of fun and happiness for people all around the world because they bring people together and bless them. One such festival celebrated with zeal and fervour is Aadi Perukku. The Hindu Tamil community celebrates the Aadi Perukku, or Aadi 18, as an auspicious festival. Aadi Perukku festival, also called Pathinettam Perukku, is a one-of-a-kind event honouring Tamil Nadu's river basins and major lakes. It is intended to celebrate the rising water levels during the monsoon, which is scheduled to begin on the 18th day of the Tamil calendar's Adi month, which corresponds to mid-July to mid-August as in the English calendar. And, this year on Monday, August 2nd, 2021 is Aadi Perukku.
Aadi Perukku Meaning
Aadi Perukku, also known as Aadi Pathinettu or Patthinettam Perukku, stands for 18 and rising respectively. As per the Tamil calendar, the month of Aadi marks the start of the monsoon. There is an increase in water level in the river at this time. Many activities related to farming are done in the month of Aadi in Tamil Nadu. It is a grand occasion of fertility and a remarkable festival of Tamil Nadu.
Aadi Perukku Significance
The month of Aadi is dedicated to religious observances, particularly for Goddess Shakti, who is associated with water and natural powers. Religious practices and Poojas are offered to the powerful goddesses in order to gain their protection from the unfortunate aspects that are often connected with this month of Aadi. In this month, when the water level begins to increase, it provides an opportunity for sowing, planting of seeds, rooting and vegetation. 
Hence, this festival is held to show love and appreciation to Mother Nature, rivers, and other water bodies. This festival is worshipped on the banks of the Kaveri and other major rivers in Tamil Nadu. Since it is an auspicious and remarkable festival, women wear new clothes and pray to Kaveri Mother for a child's blessings.
Aadi Perukku Date And Important Timings
Aadi Perukku Festival Date: 2nd August 2021, Monday
Sunrise: 6:02 AM
Sunset: 7:04 PM
Aadi Perukku Special Rituals
Women worship Goddess Parvati on the auspicious day of Aadi Perukku. Various types of rice dishes are cooked and presented to the Goddess. Coconut rice, sweet Pongal, curd rice, bahala rice, lemon rice, and tamarind rice are some widely cooked rice dishes that differ in ingredients, colours, or flavours.

On this day Akshata and flowers are offered to the holy river Kaveri.

This festival is often observed by families that live on the banks of the River Kaveri. On this auspicious day, relatives and friends pray for a steady flow of water, which will result in a good crop.

Worshippers take a bath in the holy river. They wear new clothes and conduct rituals at the bank of the Kaveri River.

Then there's Kaveri Amman's abhishekam. Using jaggery and rice flour, a unique lamp is made and it is placed on mango leaves in which they also add yellow thread, turmeric and flowers. Women light the lamp, which is then floated in the water with its offerings.

Special rice known as 'Kalandha Sadham' is prepared on the occasion of Aadi Perukku. After completing the puja, the worshippers eat the meal along the bank of the river with their family and relatives. 
By performing personalised Vishnu Puja on an auspicious day can help you attract good fortune in life and remove all your obstacles. Get Free Consultation For Puja! 
Aadi Pathinettam Perukku Celebration
On the auspicious festival of Aadi Perukku, unmarried girls perform various types of rituals and puja along with married women. According to the customs and tradition, single women who offer sweet made of rice and jaggery, palm leaf earrings, and black coloured beads are blessed with desirable grooms. On the occasion of Aadi Perukku, young people dance and perform to the tunes of folk songs. Also, some Tamil communities invite their sons-in-law and present them with new clothes. There is also a tradition in some Tamil Nadu districts where newlyweds spend a month at their parents' house before Aadi Perukku. On this day, they return to their husband's house after adding a gold coin to their 'Mangalsutra.'
Aadi Perukku Benefits
Worshipping Mother Nature with unique Aadi Perukku rituals brings many benefits for the devotees:
All desires and wishes get fulfilled on this day.

There is a steady flow of water, which will result in a good crop and trouble-free monsoon season.

It offers wealth, fertility and stability. 

Helps in achieving material and spiritual gains.

Get blessed with marital bliss.
Get personalised rituals based on your birth chart to attract prosperity from Expert Astrologers!
Conclusion
Water gives farmers new hope, brings peace to families, and brings pleasure to newlyweds, this is why Aadi Perukku is mostly celebrated. This tradition has been stated in many historical texts. The Tamil month of Aadi is thought to be very auspicious for connecting with Divine power. Worshippers thank the powerful goddesses by offering pujas and prayers and also thanks for protecting themselves from difficult situations. Since the time of the kings and royal families, it has been observed as the festival of fertility and prosperity. 
Wishing a happy Aadi Perukku to all!
To Get Your Personalized Solutions, Talk To An Astrologer Now!
With Ganesha's Grace,
The GaneshaSpeaks.com Team