Aadi Perukku Celebration 2020 - Adi 18 Meaning and Significance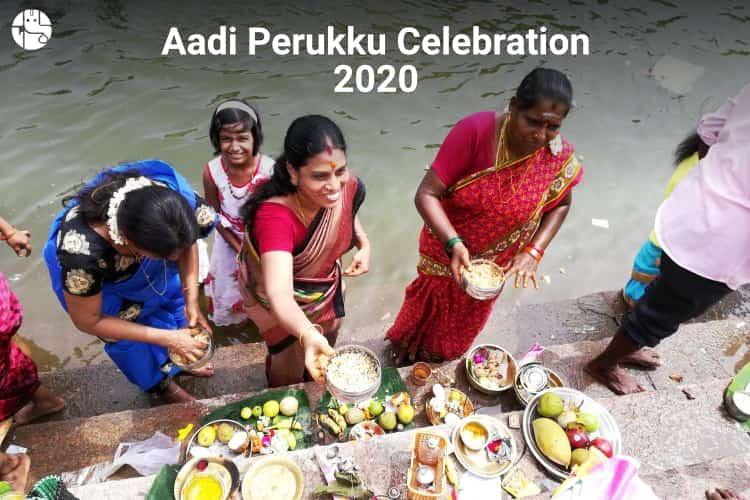 India is a diverse nation where its rich culture and heritage are preserved for decades and continue to do so. Festivals are a major source of enjoyment and happiness all over as they bring not only people together but also shower blessings on them. Aadi Perukku is one such festival that is celebrated with full fervor and devotion. On the 18th day of Adi month of the Tamil calendar, i.e., Asadha month of the Hindu calendar marks the occurrence of this festival. It usually falls between July and August. 
This year Aadi 18 Perukku will be celebrated on 2nd August 2020 - Sunday.
Aadi Perukku Meaning and Significance
People refer Aadi Perukku as 'Pathinettam Perukku' where 'Pathinettu' stands for '18' and 'Perukku' means 'rising' in Tamil. The start of monsoon is marked by the month of Aadi in Tamil Nadu. Therefore, an increase in water level is seen in the rivers at this time. Hence, sowing and planting of seeds, rooting, and other procedures are done favorably in the month of Aadi. 
Aadi Perukku is therefore celebrated in honor of water's life-sustaining qualities that are a gift to humanity. People worship Mother Nature in the form of Amman deities. They also express gratitude to the river Kaveri during this time. It's like thanking nature for showering its abundant grace, peace, and prosperity. 
As a tribute, a water ritual is carried out mainly by the women of Tamil Nadu. Additionally, they worship lakes and all the perennial river sources of the state. It is a remarkable festival of Tamil Nadu and a distinctive event in South India.
Aadi 18 Perukku Special Rituals
On the special occasion of Aadi 18, women worship Parvati Devi and offer her different items of rice prepared specially on this day. Coconut and curd rice, bahala rice, lemon rice, sweet Pongal and tamarind rice are a few of the dishes that differ in ingredients and taste. 

The holy river Kaveri is also worshipped by offering Akshata (raw turmeric mixed rice) and flowers.

Family relatives and friends gather near the banks of the river and pray for periodic water supply to fetch great harvest. This is followed by a dip in water and taking a bath. Devotees wear new clothes on this day and proceed with rituals on the ghats of the Kaveri river. 

'Abhishekam' of Kaveri Amman is done, and a special diya is created with the help of rice flour and jaggery. The diya is kept on mango leaves with turmeric, a yellow thread, and flowers added alongside. The women light up these diyas and set them afloat the river with other offerings.

A special rice dish called 'Kalandha Sadham' is prepared on this day. After the pujas and rituals are over, the family and friends eat the meal to enjoy the festivity along the banks of the river. It's a great event that seems like a picnic near the Kaveri river.
Aadi Perukku Festival Celebration
On the day of Aadi Pathinettu, unmarried girls perform various rituals and pujas along with married women. It is believed that single women who offer Kapparisi (a sweet made of rice and jaggery), Kaadholai (earrings of palm leaves), and Karugamani (black colored beads) shall receive blessings for desirable grooms. All of them dance on various folk songs to celebrate this day.
Some Tamil circles invite the sons-in-law and gift them new clothes. While in a few communities, the newly-wed women visit their parents' home before Aadi Perukku and spend a month. They return with their husbands on this day after adding a gold coin to their 'Mangalsutra'.
Note: It is deemed unfavorable to celebrate weddings or other related events during the Aadi month. 
Happy Aadi Perukku 2020
Aadi Perukku is the grand occasion of fertility that continues being celebrated and promoted from the time when the kings and royal families were ruling the states. This tradition has been indicated in various historic phases as well. The rituals performed for the whole month to shower blessings from Goddesses on people, and also protect them from the inauspicious facets of it. May the month of Aadi connect all with the Divine and bless you with happiness and prosperity.
To Get Your Personalized Solutions, Talk To An Astrologer Now!
With Ganesha's Grace,
The GaneshaSpeaks.com Team