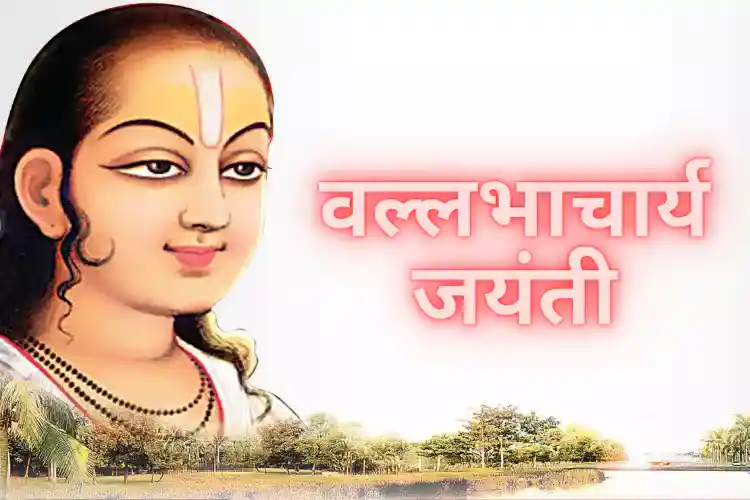 Shri Vallabh Acharya Jayanti (Vallabhacharya Jayanti) is also celebrated on the same day as Varuthini Ekadashi, the eleventh date of Krishna Paksha in the month of Baisakh. Foreign Pushya sect was established. Sri Vallabhacharya was an Indian philosopher who established the Krishna-declaration agreement and pure Advaita philosophy of Vaishnavism in the Braj region of India. In today's world many devotees of Lord Shri Krishna believe that Shri Vallabhacharya had darshan of the Lord at Govardhan Parvat. That's why Upasaka Vallabhacharya Jayanti is celebrated with great enthusiasm. They remember the supreme Indian deity, Lord Shri Krishna and Shri Vallabhacharya by worshiping and worshiping them. On the basis of some beliefs, it is believed that Vallabhacharya was the only person who met Lord Shri Krishna in the form of Shrinathji, he got this opportunity. It is said that the Purnyam of the fire god is of Vallabhacharya ji. Shri Krishna is mainly worshiped on the birthday of Shri Vallabh Ansh. Because Vallabh Ansh ji was a great devotee of Lord Krishna.
How will this year be for you, know your annual horoscope for free…
When is Vallabhacharya Jayanti in 2023?
Shri Vallabhacharya's 544rd birth anniversary is on Sunday, April 16, 2023.
Contact our experts to get the puja done properly, First Consultation with 100% Cashback!
Significance of Vallabhacharya Jayanti
It was through Shri Vallabh Ansh ji that Shri Lord Krishna was worshiped in the form of Srinath, so this day is celebrated like a festival with great enthusiasm in Shri Nath ji's temple. Those who are devotees of the devotees of Lord Shri Krishna, they celebrate Vallabh Abhishek Jayanti with great enthusiasm. On this day, all the devotees offer prayers in the temple of Shri Nathji. This day is considered to be of great importance in Tamil Nadu, Uttar Pradesh, Chennai and Maharashtra.
Birth of Acharya Vallabhacharya
In 1479 AD, Sri Vallabha was born in a simple Telugu family living in Varanasi. His mother had given birth in Champaran, Chhattisgarh and at that time the Hindu-Muslim conflict was at its peak. Shri Vallabh grew up reading Vedas and Upanishads. After that he set out on a 20-year journey to the Indian subcontinent. Biographies of his followers, like those of other Bhakti leaders, tell that he won many philosophical debates against Ramanuja, Madhvacharya and others.
Once upon a time, when Laxman Bhatt was traveling with all his companions, bearing all the hardships, then he was traveling in Raipur district of Madhya Pradesh, which has now become the state of Chhattisgarh and Raipur has become the capital of Raipur's Champaranya. reaches the forest. So on the way his wife gets labor pain. That time was in the evening, everyone wanted to rest, but suddenly due to the pain caused to Laxman Bhatt's wife, both the husband and wife had to stay in the forest. Because his wife was unable and everyone leaves him and goes to the city.
Illammagaru, the wife of Lakshmana Bhatta, gave birth to an eight-month-old baby boy under a huge Shami tree. When that child is born, it seems that there is no life in it, it is not alive. Illammagaru tells her husband that this child is born dead. At night, Lakshman ji does not see the child properly, after listening to his wife, he wraps the child in a cloth and puts it in a pit under the same tree and leaves from there.
The city where his companions take rest, they go there and start taking rest. Only then Shrinath ji appears in his wife's dream and says that the child whom you left in the forest considering him dead, is himself me. I have taken birth from your womb. After that both the husband and wife go near that tree and see that the child is safe, there is a circle of fire all around it. Both of them get their child out of that circle and are very happy by hugging them. That's why he was considered the incarnation of fire and after growing up he became famous as the child Vallabhacharya.
Founder of Confirmation Tradition
Vallabha was the founder of the Pushti tradition, which is based on his understanding of Vedanta philosophy. Vallabha rejected asceticism and monastic life, and claimed that one could attain salvation through loving devotion to Lord Krishna. This idea spread all over India, this is evident from his 84 places of worship. He is a popular teacher of the Rudra Sampradaya, one of the four traditional Vaishnava sampradayas, and is related to Vishnuswami. His legacy is the best.
There is another story behind this famous philosopher which revolves around Mount Govardhan. It states that when Vallabha was on his way, he saw some mysterious movement near Govardhan Parvat and hence, he decided to visit that particular place in the mountain. There he found an idol of Lord Krishna which he kept close to his heart. It is believed that Shri Krishna also appeared before Vallabh.
Vallabha started studying the different types of Vedas at the age of 7. He read books that reflect the six systems of Indian philosophy. He also studied the philosophical systems of Adi Shankara, Ramanuja, Madhva and Nimbarka before moving on to the Buddhist and Jain schools. He recited hundred mantras in reverse order from beginning to end. He made a great impact on the public as an embodiment of the wisdom of Venkateswara and Lakshmana Balaji.
Activities in Vallabh's life?
During his lifetime, Vallabhacharya wrote several philosophical and devotional books, which are mentioned below:
Ved Vyas Tattvartha Deep Essay on Brahmasutra based on 4 cantos – Essay on Basic Concepts of Spirituality (3 Chapters)
Shastrarth episode is the first chapter of this book.
Bhagavatarath is the second chapter of the episode.
In chapter 3 of the book, there is an all-judgment episode.
Shodash Granth – A collection of sixteen short verse-like compositions that teach his followers how to lead a devotional life.
Apart from this, he also composed texts like Patravalamban, Madhurashtakam, Gayatribhyas, Purushottam Sahastranam, Girirajadharishtakam, Nandkumar Ashtakam.
Later, Sri Vallabha acceded to the request of his devotees and composed the Shodasha Granths (a set of 16 verse parts). This grant is about the devotee's love and appreciation towards Shri Krishna. It is believed that this will encourage and inspire other devotees to find spirituality in their lives. Shodsha Granth gives a strong message of complete surrender to Lord Krishna. It also describes how to surrender one's life to Lord Krishna, and what would be the result of worshiping him.
Earth orbit of Shri Vallabhacharya
Vallabhacharya, a devotee of Shri Krishna, walked barefoot on three Indian pilgrimages. He wore a plain white dhoti and an uparatna, a white angavastra cloth. He gave Bhagwat discourses at 84 places explaining the meaning of ancient texts. Presently, these 84 places are known as Chaurasi Baithak, which are pilgrimage sites. Later he spent about four months in Vraja.
Pushtimarg of Vallabhacharya
When Vallabhacharya came to Gokul, he inspired many devotees to the right direction of devotion. He remembered Shri Krishna, who appeared to him in the form of Shrinathji. Damodardas, his disciple, was sleeping next to him at that time. Vallabhacharya told Damodardas about his experience the next morning and asked if Damla had heard any sound last night. In response, Damla agreed with him that he had heard something. Vallabhacharya then explained about the power of the mantra.
Vallabhacharya decided to propagate his Pushtimarg message of devotion to God. He visited India thrice for pilgrimages. He started religious authority by declaring 'Naam Nivedeen' or 'Brahma Sambandhan' mantra as the best. And thousands of devotees started following him. The rest of the story is narrated in the Pushtimarga literature. Furthermore, there is a strong belief that Vallabhacharya met sage Vyasa and discussed the attributes of Lord Krishna in the pillar of the Himalayas.
How to become Vallabh Acharya?
In Vijayanagara, once Vallabha decided to join the debate between Madhva and Vaishnavas whether God is dualistic or non-dualistic. At the young age of 11, Vallabha represented his opinion and views to King Krishnadeva Raya. The long debate ended after 27 days when King Krishnadevaraya honored Vallabha with the Kanakabhisheka ceremony. And from that movement he got the name of 'Acharya' and 'Jagadguru' (ancestor of the world).
The king presented the young Vallabhacharya with utensils of gold, which weighed a hundred maunds. Vallabhacharya refused to accept such gifts and requested the king to distribute them among the poor Brahmins. Vallabha had seven gold coins for himself, which he used to make ornaments (of God) at Pandharpur.
Vallabhacharya dedicated his life to Lord Krishna?
As described in the literature of Pushya Marga, Lord Krishna asked Vallabhacharya to go to heaven once or twice. In 1530 AD, 52-year-old Vallabhacharya obeyed Shri Krishna and took samadhi in the holy river Ganga near Hanuman Ghat in Kashi. He lived in a thatched hut at Hanuman Ghat and chanted the name of Shri Krishna during his last days. Many worshipers including his family members assembled near him to seek his last advice. He wrote his last words on the sand and placed them in front of her. In addition, those who celebrate Hinduism say that Lord Krishna himself came to take the dead Vallabhacharya with him to Vaikuntha. That is why we celebrate his birth anniversary to remember him.