Acharya Krishnamurthy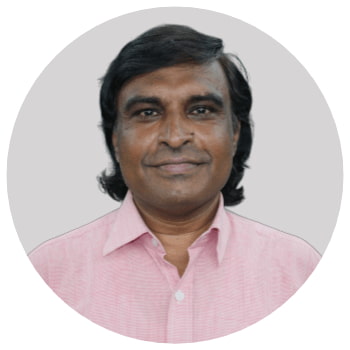 ABILITIES
Vedic Astrology, Lal Kitab, He has done in-depth research about Krishnamurti i.e. K.P. methodology and achieved mastery over it. Astrology is his passion. He deeply analyses any horoscope and gets satisfied only after resolving the related problems. He considers astrology as a religion. Hence, he is less oriented towards materialism. He takes astrology very seriously, as he believes that one correct prediction can change somebody's life.
ACHIEVEMENTS
He has given lectures on K.P. methodology in many seminars and written articles on astrology, which are very helpful for fresh astrologers. He has very accurately predicted about cricket, politics, elections in India and abroad, and several others topics in advance.
BACKGROUND
He has inherited astrology from his family. Thus, he has naturally gained knowledge about this subject. Later on, he scientifically pursued traditional astrology and adopted the theory of logical predictions. He is known as Guruji Sangamji in India and abroad.
EXPERIENCE
20 years.
EXPERTISE
Acharya Krishnamurthy saved many marriages that were on the verge of divorce, brought a divorced couple together, helped a childless couple to have children, mentored many boys and helped girls choose the right profession. Additionally, Krishnamurthy helped many in shaping their fortunes by offering relevant solutions for their problems, giving proper guidelines as to when to do jobs and when to go for independent enterprise, the correct time for purchasing a property and transport, saved girls falling into the trap of false love. His predictions of Bollywood and South's film stars worked wonders. Also, he predicted Rajasthan would win the elections of 2019 states in elections. Throughout his career, Krishnamurthy has helped people shape their fate by giving them proper astrologic solutions and remedies.
HOBBIES
Meditation, Sufi (devotional) music, and reading spiritual literature to grow spiritually and gain awareness about the soul.
REASON FOR CHOOSING ASTROLOGY AS CAREER
As per my experience, you should only have knowledge about all possibilities that are hidden within a horoscope, just like possibilities hidden in any seed. He believes that inborn talents are hidden in a horoscope. If you can understand them, you can achieve 100% success in life. Instead of inborn talents, if you work using acquired talents, you may have to face many challenges in life. The whole world and nature lives in harmony. If we also learn about this harmony, then nobody can stop us from achieving success in life. Your horoscope informs how to live harmoniously.

Day Guide
Comprises of events likely to happen, hourly guidance & precise timeframes

Life Meter
Know the percentages of different aspects of your physical and mental state

Compatibility
Check out how well will your wavelengths with others match