Acharya Upmanyu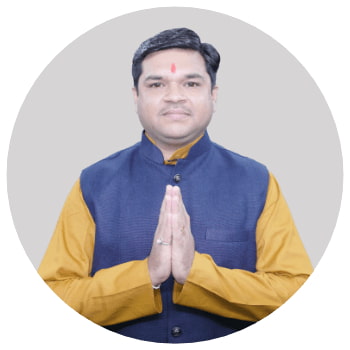 ABILITIES
Acharya Upmanyu out the astrological reasons for the issues in career and finance, using the art of astrology. He is blessed with a unique vision of planetary movements, which enables him to see every problem deeply and give out the best remedy. Thus, he can efficiently solve problems in the areas of birth chart problems, issues in love life, marital conflicts, and so on. He knows English, Marathi, Hindi and Gujarati.
ACHIEVEMENTS
Acharya Upmanyu is awarded "Customer Appreciation Award" and Best Remedial Techniques Award. Besides, he has set a benchmark for the highest minutes of conversation with the customers. He has also conducted a promotional programme for launching. Additionally, he had been awarded many times inhouse Rewards and Recognition activities.
BACKGROUND
He began his spiritual journey at a very young age. He was born in the family of Royal Jyotshi of Satara, Maharashtra. Apart from having done M.B.A (Banking and Finance), he is the master in the field of astrology, a Jyotish Visharad. He has also acquired knowledge from his father, who is a well-known priest and astrologer of Kalaram Mandir Satara. His family is providing astrological consultancy for the last ten generations.
EXPERIENCE
Ten years
EXPERTISE
Career guidance, family conflicts, love problems and finance.
HOBBIES
Acharya Upmanyu is very good at performing art and has a liking for music. He feels that music is the way to connect with God. He is a big supporter of Hinduism and follows all the rituals like regular worship, trikal sandhya, vedic reading, teerthyatra, daan dharma, meditation, etc. He believes that the person who guides others should himself/herself practice the rules very strongly.
REASON FOR CHOOSING ASTROLOGY AS CAREER
Acharya Upmanyu strongly believes in the "Theory of Karma". After getting an in-depth knowledge of Astrology, he understands that each problem in life has a solution. He believes that accurate astrological analytical skills will make human life easier. Another desire is to help the other lives with a meaningful and positive change in the human environment with the help of remedial measures.

Day Guide
Comprises of events likely to happen, hourly guidance & precise timeframes

Life Meter
Know the percentages of different aspects of your physical and mental state

Compatibility
Check out how well will your wavelengths with others match