Mundan Ceremony Muhurat 2023: Dates, Timings & Significance
Published on November 6, 2020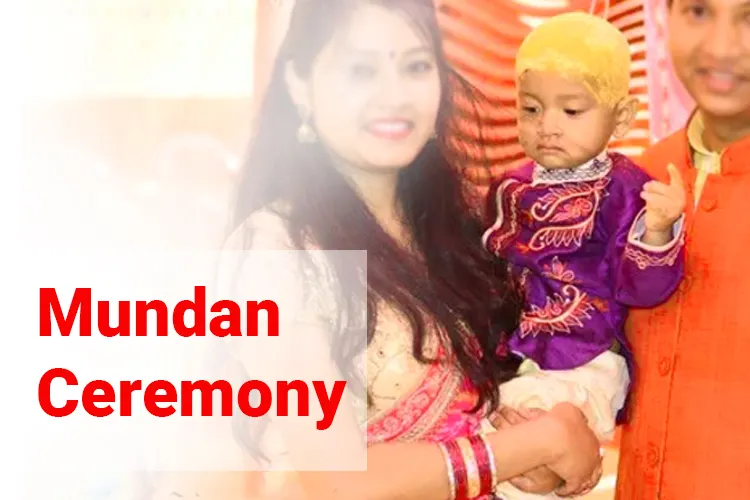 Mundan in Hindu culture or Tonsur in English is one of the most important rituals in Indian society. It is obligatory in Hindu tradition and is performed between four months and three years after the birth of a child. A barber is hired to get the child's hair shaved. All these rituals are performed on a certain fixed date under the proper guidance of the Pandit. Special care is being taken to check the Mundan Muhurta. The Mundan date is decided according to the particular Mundan date of the Hindu calendar. The Mundan Sanskar Muhurta is specially taken care of when it comes to the welfare of the child's life.
Do we need to observe some Mundan Sanskar Muhurta? Yes, and so for that we need to find Mundan Tithi as per Hindu Calendar, and in this article, you will learn about different Mundan Tithi and Mundan Muhurta. It also covers Mundan Sanskar Muhurta and Mundan Muhurta calculator and how and when it is considered and used in the calculation. Also, know more about Mundan Muhurta in 2023 and how it is calculated.
Mundan Ceremony Muhurta 2023: Timings and Dates
| | | |
| --- | --- | --- |
| Mundan-ceremony | Days | Timings |
| January 23 2023 | Monday | 07:25 AM to 07:25 AM January 24 |
| January 27 2023 | Friday | 06:36 PM to 07:24 AM January 28 |
| February 3 2023 | Friday | 06:18 AM to 06:58 PM |
| February 10, 2023 | Friday | 07:58 AM to 07:18 AM, February 11 |
| February 24, 2023 | Friday | 03:44 AM to 12:31 AM February 25 |
| March 1 2023 | Wednesday | 07:05 AM to 09:52 AM |
| March 2 2023 | Thursday | 12:43 PM to 07:55 PM |
| March 9 2023 | Friday | 04:20 AM to 09:21 AM February 10 |
| March 18 2023 | Saturday | 02:46 AM to 06:49 AM |
| April 14 2023 | Friday | 11:13 PM to 06:23 AM April 15 |
| April 24 2023 | Monday | 08:25 AM to 02:07 AM April 25 |
| April 26 2023 | Wednesday | 11:28 AM to 01:39 PM April 27 |
| May 3 2023 | Wednesday | 06:09 AM to 11:50 PM |
| May 8 2023 | Monday | 06:06 AM to 07:19 AM |
| May 11 2023 | Thursday | 10:17 PM to 09:07 AM May 12 |
| May 17 2023 | Wednesday | 07:39 AM to 10:28 PM |
| May 22 2023 | Monday | 06:00 AM to 10:37 AM |
| May 24 2023 | Wednesday | 05:59 AM to 03:01 AM May 25 |
| May 30 2023 | Tuesday | 04:29 AM to 05:58 AM |
| June 1 2023 | Thursday | 01:39 PM to 06:53 AM Jun 2 |
| June 7 2023 | Thursday | 09:51 PM to 06:59 PM Jun 8 |
| June 10 2023 | Saturday | 3:09:00 AM to 05:57 AM |
| June 14 2023 | Wednesday | 05:57 AM to 08:48 AM |
| June 19 2023 | Tuesday | 08:10 PM to 05:58 AM |
| June 21 2023 | Wednesday | 05:58 AM to 03:10 PM |
| June 28 2023 | Thursday | 06:00 AM to 03:19 AM Jun 29 |
Significance of Mundan Muhurta
Mundan Sanskar is one of the age-old traditions of Indian culture. There are some scientific reasons behind the Mundan Sanskar which is being followed at this point. It is a well-known fact that a child's body absorbs Vitamin D quicker and faster when exposed to early morning sun without clothes and hair. This is a proven fact, and even doctors advise children to do this. On the other hand, it is generally seen that these babies do not grow hair properly and even do not grow hair, which also leads to parallelism in their development. To the closed pores of the head.
According to Vedic astrology, the hair is shaved during Mundan Sanskar to get rid of the karmas of the previous birth and to attain salvation from the duties of the previous birth. The auspicious time for mundan is very important, as it is the particular day when the hair of the child which he is raising from his mother's womb has to be removed. In Hindu culture, shaving them can protect a child from evil spirits, free one from a previous birth and enter a new life, leaving behind everything from the previous birth and moving on. It also activates the nerve cells present in the brain, making the child more active. A tuft or choti is left behind to protect the memory.
After shaving, the child's head is washed with holy water, a paste of sandalwood and turmeric is applied and care is taken not to irritate the child. This paste gives a soothing effect and heals any cuts or wounds. It is one of the 16 purification rituals known as Shodasha Sanskar. It can be said that Mundan Sanskar is performed to get rid of the impurities of the previous birth that the child has carried with him in this birth.
It is a common practice in India that whenever we want to do something special, we usually look up to a pundit or astrologer to make a proper calculation about the Muhurta of that auspicious time. In Mundan for the same, we look for Mundan Sanskar Muhurta where astrologer uses Mundan Muhurta calculator to calculate the best Nakshatra for Mundan, Mundan Muhurta is decided. According to Vedic astrology, all the planets, Nakshatras play an important role in one's life. All the goods for the child are expected to be received when some auspicious rituals need to be performed.
Astrologers refer to the favorable position of these stars as Mundan Tithi and call it Mundan Shubh Muhurat. To avoid any kind of trouble or untoward incident for the baby in future, the practice of finding Mundan Muhurta has been going on for centuries.
Mundan Muhurta is calculated with the help of various Tithi, Yoga, Vaar, Nakshatra, Combustion of planets and some other astrological terms. The Hindu calendar and Vedic astrologers estimate that there are around 30 Muhurtas in a day, and they can be auspicious or inauspicious. Out of these Muhurtas, Dwitiya (2), Tritiya (3), Panchami (5), Saptami (7), Dashami (10), Ekadashi (11) and Trayodashi (13) are considered good for shaving. One can go for Mundan Muhurta of his/her choice from all these dates. Let us know about the Mundan Muhurta.
Planning for your baby's mundan – know the auspicious time for mundan
The auspicious time for mundan is generally considered to be between 1-3 years of age or maybe 5 or 7 years of age. The best Nakshatras for Mundan ceremony are Mrigashira, Ashwini, Pushya, Hasta, Punarvasu, Chitra, Swati, Shravan, Dhanishtha, Shatabhisha. If Mundan Muhurta is considered according to the date of birth, then it should be done in Uttarayan months like Chaitra, Vaishakh, Jyestha, Ashadh, Magh and Falgun. So, if there is a month of your child's birthday, you can get the Mundan Sanskar ceremony done or according to the Mundan Muhurta.
Mundan Muhurta in 2023 has also got similar features to perform
R function. There is a list of months that can be followed to perform the ritual. Mundan Muhurta 2023 is also given by astrologers by doing all calculations according to Mundan Muhurta calculator for each month of the year 2023.
It is very necessary for the child to perform the mundan muhurta and to get the blessings of God so care should be taken in performing the ceremony. To do this one can follow the table given below.
If You Want to Know About the Various Facets of Your Life in 2024, Read the 2024 Detailed Report
Wrapping up
If you are planning to have your child's cremation ceremony in 2023, here are all the dates available for you and you can further decide on which date you want to get your child's cremation ceremony done. Fix your baby's special day with all the important dates and Mundan Muhurat and get lifelong blessings.
By the grace of Ganesha,
ganeshaspeaks.com
Talk to our expert astrologers to reveal, What is special about Muhurat?
Read about all other Muhurats Below:-