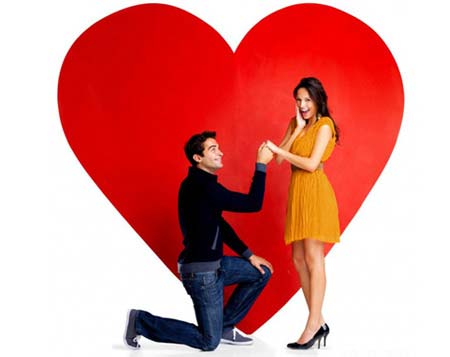 All your love issues solved. Guaranteed!
Love makes the world go round! That is why, love matters can be very painful! Now, get precise astrological guidance regarding all your love matters. When will you find true love? Is your partner your soul-mate? Should you take your relationship to the next level? We can answer all or any of these questions accurately, on the basis of your Horoscope.
28-09-2014 to 04-10-2014
Western Tropical Planetary Positions
Love and Dating
Love life for most of you may remain average this week, foretells Ganesha. You will be unable to judge if your relationship is heading in the right direction or not. The need can be emotional as well as physical, but you should handle the 'emotional' aspect with greater care. Avoid getting close physically, unless the 'emotional' front is in proper balance, warns Ganesha. You and your partner should avoid taking major decisions this week, like getting married, as later it may prove to be wrong. This week, you may also not feel confident about the strength of your love relationship. You can order Romance Potential Reading right away, to get guidance from an astrological perspective for your love life – this report is based on your Natal Chart, and so it shall be fully customised for you. The journey of Venus through Libra ideally should have been good news for lovers, but unfortunately the Sun and the North Node seem to be bent to make things rough. Beware, lovers!

Products By Ganeshaspeaks Team
The science of astrology has been in existence for thousands of years. The aim is to make a conscious attempt to measure, record and predict objective and subjective events by studying the positions of the heavenly bodies at any given time. Changing with the times, GaneshaSpeaks.com has taken this science of astrology to the online world, by providing personalized daily, weekly, monthly and yearly predictions based on planetary positions and horoscopes. Besides, specific areas of life including Career, Finances, Business, Love, Educational, Personal and Property are astutely addressed with customised, tailor-made solutions and reports by GaneshaSpeaks.com team. The erudite team of astrologers at GaneshaSpeaks.com has been tutored by Bejan Daruwala himself.

Products by Panel Astrologers
We at GaneshaSpeaks.com have a host of Panel astrologers, each one specialising in some intricate aspect of astrology or the other. The astrologers take questions from people regarding the problems they may be facing in life or from people who are curious to know what the future holds in store for them and address the problems by making an in-depth study of their horoscopes. They not only point out the causes of the problems in these personalized reports but also suggest remedial measures to be taken to overcome any astrological obstructions that the person may be facing. They offer personalized reports, with solutions, on matters related to education, career, finances, business, job, property, kundali matching, love and marriage, various doshas present in the horoscope, etc.
Expert Match Making

Love & Marriage Prospects

Kundali Matching


Testimonials
More than 10,000,000 satisfied customers and counting !!
I am Amazed with this report, its accuracy and its format. This single report has given me so much information and that is just with in 72 hours. Worth it!! I will suggest the same to my friends and collegues for sure!!!
- Sunil, Canada
I love a guy very very much, but our situation was bad. I did not asked him. I was so fearful of losing him as friend. My friends thought he loves me, but he never said. So, I had to know, and I decided to try astrology. As he was my friend, I had his birth date etc. I ask for birth time somehow, and got this Love ask Question, and they said he will love me. And, I should wait. And, one day he told me how much he loved me! Wow, the answer was perfect! And, I am thankful.
- Gautami Mahiskar, Baroda