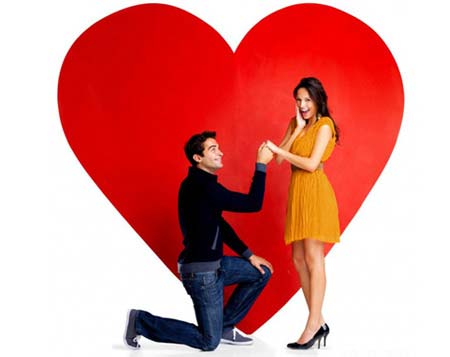 All your love issues solved. Guaranteed!
Love makes the world go round! That is why, love matters can be very painful! Now, get precise astrological guidance regarding all your love matters. When will you find true love? Is your partner your soul-mate? Should you take your relationship to the next level? We can answer all or any of these questions accurately, on the basis of your Horoscope.
19-10-2014 to 25-10-2014
Western tropical planetary positions
Love And Dating
You have excellent news, if love is on your mind this week. The stars are entirely in your favour, and your love aspirations may get a boost under such starry alignments, feels Ganesha. If nothing else, bonhomie and friendship shall bring you great happiness. You will enjoy the company of your friends. It is, thus, as good time for arranging gathering with like-minded friends, especially if you have your heart and eyes set on a good friend. The planets indicate that some friends may turn lovers this week. Are you in doubt as to both of you are just friends or do you sense a feeling of love towards each other. Clear your doubt by obtaining a fully personalised report Friends Or Lovers which is based on your Natal Chart, prepared by an expert astrologer. The time shall also be quite good for the ones in ongoing love relationships, as these bonds look set to remain free of complications. Enhanced harmony in your relationship shall keep you happy, assures Ganesha.

Products By Ganeshaspeaks Team
The science of astrology has been in existence for thousands of years. The aim is to make a conscious attempt to measure, record and predict objective and subjective events by studying the positions of the heavenly bodies at any given time. Changing with the times, GaneshaSpeaks.com has taken this science of astrology to the online world, by providing personalized daily, weekly, monthly and yearly predictions based on planetary positions and horoscopes. Besides, specific areas of life including Career, Finances, Business, Love, Educational, Personal and Property are astutely addressed with customised, tailor-made solutions and reports by GaneshaSpeaks.com team. The erudite team of astrologers at GaneshaSpeaks.com has been tutored by Bejan Daruwala himself.

Products by Panel Astrologers
We at GaneshaSpeaks.com have a host of Panel astrologers, each one specialising in some intricate aspect of astrology or the other. The astrologers take questions from people regarding the problems they may be facing in life or from people who are curious to know what the future holds in store for them and address the problems by making an in-depth study of their horoscopes. They not only point out the causes of the problems in these personalized reports but also suggest remedial measures to be taken to overcome any astrological obstructions that the person may be facing. They offer personalized reports, with solutions, on matters related to education, career, finances, business, job, property, kundali matching, love and marriage, various doshas present in the horoscope, etc.
Expert Match Making

Love & Marriage Prospects

Kundali Matching


Testimonials
More than 10,000,000 satisfied customers and counting !!
A colleague of mine had proposed to me. I, too, liked him, but was not confident whether we would make a compatible couple, so when a relative suggested this product, I bought it and they fully addressed all my concerns, and also suggested some remedies to overcome some minor obstacles. After, having followed the recommendations, my marriage was solemnised a few months ago. This product is ideal for anyone in the same condition that I was in.
- Ruchi Ghate, Pune.
I have never had a good love life. I was facing problem in getting married also. It was late, and I felt tired. My parents were worried too. Then my mom decided to consult an astrologer. And, I was hell-bent that we should not go to the local one. So, we choose GaneshaSpeaks, and the result was quite good. I found the report useful. We even bought the suggested remedies from them, and it is good quality.
- Rishi Sharma, Delhi