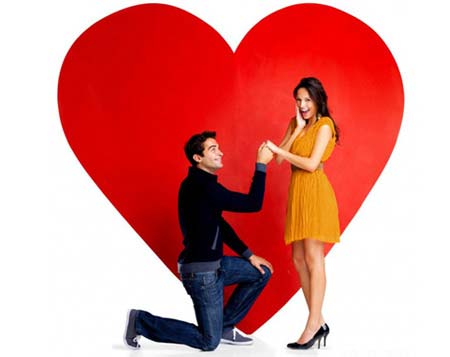 All your love issues solved. Guaranteed!
Love makes the world go round! That is why, love matters can be very painful! Now, get precise astrological guidance regarding all your love matters. When will you find true love? Is your partner your soul-mate? Should you take your relationship to the next level? We can answer all or any of these questions accurately, on the basis of your Horoscope.
27-07-2014 to 02-08-2014
Western Tropical Planetary Positions
Love & Dating
With Venus in Cancer, it's time to open your heart and share your feelings with your beloved. Express yourself with greater amount of confidence. If your partner finds loyalty in your approach and if he/ she finds you committed enough to the relationship, all the gates to the heaven will open up for you. In short, during this week you have a chance to prove yourself as a 'true lover'. Good time to start dating someone as 'new moon' has arrived in Leo. Someone from your near or distant past may also resurface during this week. Get an astrological viewpoint by availing Romance Potential Reading, which is prepared by our expert astrologers completely based on your unique Birth Chart, and so you will get a 100% personalised report.

Products By Ganeshaspeaks Team
The science of astrology has been in existence for thousands of years. The aim is to make a conscious attempt to measure, record and predict objective and subjective events by studying the positions of the heavenly bodies at any given time. Changing with the times, GaneshaSpeaks.com has taken this science of astrology to the online world, by providing personalized daily, weekly, monthly and yearly predictions based on planetary positions and horoscopes. Besides, specific areas of life including Career, Finances, Business, Love, Educational, Personal and Property are astutely addressed with customised, tailor-made solutions and reports by GaneshaSpeaks.com team. The erudite team of astrologers at GaneshaSpeaks.com has been tutored by Bejan Daruwala himself.

Products by Panel Astrologers
We at GaneshaSpeaks.com have a host of Panel astrologers, each one specialising in some intricate aspect of astrology or the other. The astrologers take questions from people regarding the problems they may be facing in life or from people who are curious to know what the future holds in store for them and address the problems by making an in-depth study of their horoscopes. They not only point out the causes of the problems in these personalized reports but also suggest remedial measures to be taken to overcome any astrological obstructions that the person may be facing. They offer personalized reports, with solutions, on matters related to education, career, finances, business, job, property, kundali matching, love and marriage, various doshas present in the horoscope, etc.
Expert Match Making

Love & Marriage Prospects

Kundali Matching


Testimonials
More than 10,000,000 satisfied customers and counting !!
Life is such a ….. I have no words. And, I can't reveal much here. But, I have to tell you that GaneshaSpeaks helped in a way no one could. I was in a situation I could not even confess to anyone, not even my dad, who is very very close to me. And, I could not sleep for months. I did not know the answer to my questions, and I wanted them badly. I had heard about the power of astrology and horoscopes. So, I consulted astrologer from Ganesha, and the answers brought me so much relief. First, I could, without any care, share my feelings with them. There was no face and they promise full security. I got my answer quickly. And, there were things I had not even told them, and they knew! Thanks GaneshaSpeaks.
- Anonymous, U.S.
Due to the valuable information provided in Attract Love report, I was able to identify and act upon the obstacles in my love life. This helped me to start afresh and now I am more than happy in my relationship. I attribute this turnaround to the helpful guidance of GaneshaSpeaks, and will recommend this product to everyone.
- Umamaheshwaran, Chennai