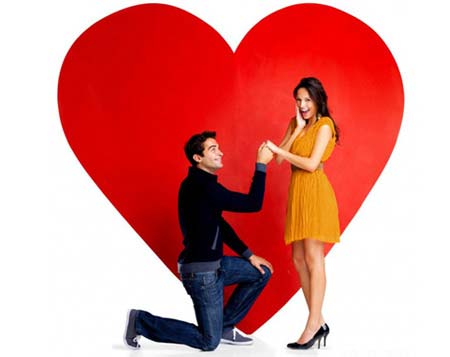 All your love issues solved. Guaranteed!
Love makes the world go round! That is why, love matters can be very painful! Now, get precise astrological guidance regarding all your love matters. When will you find true love? Is your partner your soul-mate? Should you take your relationship to the next level? We can answer all or any of these questions accurately, on the basis of your Horoscope.
23-11-2014 to 29-11-2014
As per the Western Tropical Planetary Positions
Love and Dating
Given Mercury's influence in an expressive, freedom-loving Sign, many of you shall remain quite candid and expressive in your love affairs, especially in the second part of the week. Overall too, for love and dating related matters, stars shall be supportive and things shall remain largely positive. Most of you shall find yourselves enthusiastic and affirmative, willing to give and invest a lot in your love relationship. New love shall blossom, and for many of you, this week, may bring opportunities for second time love bonds. However, the committed ones shall need to be careful. They may be misguided by temptations, and may end up getting into new relations, while also continuing the existing ones. This 'two timing' may jeopardise your life and relationship, cautions Ganesha. Hence, you can order the Torn between lovers? Report, as it shall help you to end the confusion in your love life! So, be careful! A little snatch of happiness today may cause you a plenty of heart-ache later – so, be wise and loyal. All in all, it's a week of butterflies in stomach and stars in the eyes – provided you stay right on track.

Products By Ganeshaspeaks Team
The science of astrology has been in existence for thousands of years. The aim is to make a conscious attempt to measure, record and predict objective and subjective events by studying the positions of the heavenly bodies at any given time. Changing with the times, GaneshaSpeaks.com has taken this science of astrology to the online world, by providing personalized daily, weekly, monthly and yearly predictions based on planetary positions and horoscopes. Besides, specific areas of life including Career, Finances, Business, Love, Educational, Personal and Property are astutely addressed with customised, tailor-made solutions and reports by GaneshaSpeaks.com team. The erudite team of astrologers at GaneshaSpeaks.com has been tutored by Bejan Daruwala himself.

Products by Panel Astrologers
We at GaneshaSpeaks.com have a host of Panel astrologers, each one specialising in some intricate aspect of astrology or the other. The astrologers take questions from people regarding the problems they may be facing in life or from people who are curious to know what the future holds in store for them and address the problems by making an in-depth study of their horoscopes. They not only point out the causes of the problems in these personalized reports but also suggest remedial measures to be taken to overcome any astrological obstructions that the person may be facing. They offer personalized reports, with solutions, on matters related to education, career, finances, business, job, property, kundali matching, love and marriage, various doshas present in the horoscope, etc.
Expert Match Making

Love & Marriage Prospects

Kundali Matching


Testimonials
More than 10,000,000 satisfied customers and counting !!
Life is such a ….. I have no words. And, I can't reveal much here. But, I have to tell you that GaneshaSpeaks helped in a way no one could. I was in a situation I could not even confess to anyone, not even my dad, who is very very close to me. And, I could not sleep for months. I did not know the answer to my questions, and I wanted them badly. I had heard about the power of astrology and horoscopes. So, I consulted astrologer from Ganesha, and the answers brought me so much relief. First, I could, without any care, share my feelings with them. There was no face and they promise full security. I got my answer quickly. And, there were things I had not even told them, and they knew! Thanks GaneshaSpeaks.
- Anonymous, U.S.
In the beginning, I was a bit apprehensive about the impact of astrology on life. But my friend persuaded me to give this report a try. And I don't regret my decision at all. The accuracy of this report by GaneshaSpeaks amazed me no ends. It accurately predicted the time frame of the commencement of my relationship, and gave me valuable insights regarding my love life. I am totally satisfied with the outcome and feel that this report has given me more than adequate worth of my hard earned money. Kudos to GaneshaSpeaks!
- Abhinav, Mumbai