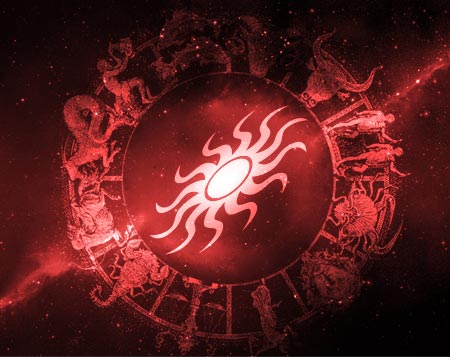 Ghat Chakra
Author: GaneshaSpeaks Team
Ghat Chakra is all about time
Ghat Chakra gives you information about inauspicious days, Nakshatras and other elements of the Panchang based on your horoscope. During the time period mentioned in the Ghat Chakra, you should avoid undertaking any important activity such as journey, marriage or any other major task, to avoid the inauspicious planetary forces.

Position of Moon in your horoscope
With the aid of a Ghat Chakra report, you can determine the good (auspicious) and bad (inauspicious) time during any particular day, month or year. Ghat Chakra is determined by the position of the Moon in your birth horoscope.

Avoid negative planetary influences
With the help of valuable information in Ghat Chakra report, you can avoid any important activity in the times that are not suited to you, thereby countering the adverse effect of inauspicious planetary combinations.

Report Details

Know your unfavourable time periods
This free report consists of a chart of specific time periods that are not auspicious for you. Additionally, a brief description of how to use the information provided in the chart is also given. Schedule your important activities accordingly, avoiding the dates inauspicious for you.

Be forewarned!
Ghat Chakra report assists you in making yourself aware of adverse planetary positions beforehand, giving you time to prepare. It also helps you to avoid scheduling any important activity during times that are inauspicious for you.

Testimonials
More than 10,000,000 satisfied customers and counting !!
This report has provided my business analysis more accurate than my accounts!!He he!!on the serious note I can say that this report helped me a lot to take certain decision well in advance. Thanks to the team
- Mr. Ranka, Mumbai
I had bought a gemstone from another company but later I found out that the quality of that gemstone was not good. I had vowed that I would not purchase anything online. However, GaneshaSpeaks.com changed my perception about online buying. I bought one of their career reports some time back, I was advised to install a yantra in my home. I though I would give it a shot and see if they could stand up to my expectations. And yes, they did! I got a high quality yantra and that too within 10 days!
- Ravikant Bakshi, Jaipur

Why and How
Why should I get this free report?
To know the auspicious and inauspicious time periods as per your birth horoscope.
To increase your chances of success in any important activity you undertake.
To make you aware of adverse planetary positions beforehand, which helps you to be mentally prepared to face any unfavourable situation.
How will this guidance be helpful to me?
Stay forewarned against adverse planetary positions.
Know when and how, in order to nullify the chances of failure in your important activities.
To gain a better understanding of your opportune and adverse time periods.
To live a more productive and happy life.

Frequently Asked Questions
Will my personal information be kept confidential?
Don't worry! Ours is a very secure system. Plus, as a policy, we do not disclose any of our client details or questions to anyone, at any cost. You can be assured of complete confidentiality. Since you will get your report via email, you don't have to worry about anyone else finding out about this.
Will I be prompted again and again, once I get a Free Report from your website?
Once you take a Free Report from our website, you are deemed as a registered member of our exclusive database. Hence, you will be on our email list and shall get regular, but non-obtrusive, e-mailers about our latest or special offers. However, you always have a choice to un-subscribe from our mailing list. Also, all our emails are customer mail-box friendly! Trust us, we will not spam your mail box ever!
How can I save my Ghat Chakra Report?
As you order a Free Report from us, apart from the instant answer that gets displayed on screen, we also send across an email with your complete Ghat Chakra Report. This ensures that the answers remains with you for future reference, even when you log out. Please ensure you give us an email id that is 100% private yet functional.
Can I avail the same report multiple times and for multiple people?
Yes. You can avail a Free Report any number of times, for any number of people, using the same email id registration. However, we suggest that you urge these people to use their own email ids to get their report, as it will enable them to get their personalised daily horoscope too.
What information I need to provide to avail the Ghat Chakra report?
You need to provide your birth details such as birth date, birth time and birth place, since this report is based on your Moon Sign. In addition, you have to disclose your gender for this report, as positions of inauspicious moon are gender specific and hence are different for males and females.