Will Yuvraj do 'Raj' over the World cup tournament? Ganesha finds out.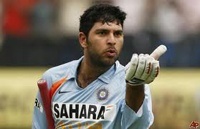 He created history, when he hit six sixes in an over against England, a feat performed just three times previously in any form of international cricket. Bowlers' nightmare, Yuvraj Singh is one of those few gifted cricketers who can tear apart a bowling attack on his day. Yuvraj, who started off as left-handed batsman in the year 2000, seems to have inherited the fondness for this sport from his father Yograj Singh, former Indian fast bowler. They say, when all is well with Yuvraj Singh, he hits the ball as clean and long as it has ever been hit, and when all is not well, he looks so awkward you forget he can hit the ball clean and long.
Well, looking at his current form, it seems all is not well. Will he convert this bad form into a good one just like he has, in the past, converted 'all-hopes-lost' matches into wins? Ganesha finds out with the help of Vedic Astrology.
Ganesha feels that the transiting Mars and Jupiter will help him perform well during the first round of the tournament. His performance will be excellent during the match against Bangladesh and South Africa. He will add some useful runs against Ireland. But he may face problems against West Indies. His performance may not match his potential during the quarter-finals. But his performance will prove useful during the semi-finals. If India happens to reach the finals of the Cricket World Cup, Yuvraj can be sure to showcase his all-round performance.
We wish him good luck and may Lord Ganesha bless him.
With Ganesha's Grace,
Tanmay K.Thakar
The GaneshaSpeaks Team
Predict who will win the Cup & Win a 42 inch LCD TV.
17 Feb 2011