Will Munaf Patel, the Son of Soil, prove his mettle in the Cricket World Cup? Finds out Ganesha.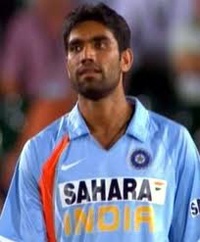 Native of a small village named Ikhar in the state of Gujarat, he was like a diamond in the rough, before he was noticed by cricket veteran Kiran More in the year 2003. His talents honed and polished, he soon became a well-recognised name in fast bowling. With this, the Indian Cricket Team got one of its most promising contemporary bowlers, in the modern times, Munaf Musa Patel. Ever since his debut in the ODIs in the year 2006, Munaf has been an asset to the team. Deceptive slow deliveries, yorkers, reverse swing bowling, and likes, Munaf almost always carries more than what could be needed in a match in his ample quiver. His arrows, which are his deliveries, have taken many a batsman off guard, and have succeeded in doing the damage against opponents time and again. Munaf suffered injuries and his career touched its lowest ebb till now, when he was openly criticized by the team coach in 2004, Sandeep Patil. But, this resilient champ soon bounced back! Going by his track record, Munaf will certainly have a lot to offer in the forthcoming World Cup tournament, provided injuries do not keep him out of action.
Will this Son of Soil give Indian Cricket team an edge over others in the Cricket World Cup? What will be his game plan this time around? Will he be a challenge enough for the batsmen from the opponent teams? Ganesha, through Vedic astrology, finds out how Munaf will perform in the Cricket World Cup.
The medium pacer of India, Munaf Patel will have a strong support of the transiting Mars and Jupiter during the first round of the international Tournament. He is likely to ball well against teams of England, Ireland and South Africa. He may pick important wickets at very crucial juncture during these matches. However, his performance looks set to be quite ordinary during the Quarter Finals. He may prove expensive for the team at this stage. However, if India reaches the Semi-Finals and Final, Patel will play a very important role with probably one of his most impressive bowling performance.
We wish him good luck. May Lord Ganesha bless him.
With Ganesha's grace,
Tanmay K.Thakar
The GaneshaSpeaks Team
Predict who will win the Cup & Win a 42 inch LCD TV.
17 Feb 2011