Praja Rajyam Party: The superstar's stars may let him down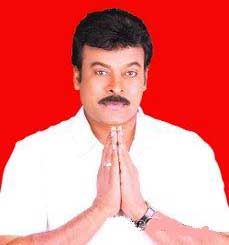 Praja Rajyam (People's Rule), the name of the political party of the Telugu superstar-turned-politician Konidela Siva Shankara Varaprasad aka Chiranjeevi, was unveiled by the star before a sea of humanity at Tirupati in a much hyped filmi style.
It aims at being a secular, pro-poor party by being a part of backward and weaker sections, farmers, labourers, and women. In the words of the party supremo, 'it will be party, which will fight for social justice and will take Andhra Pradesh towards economic development and prosperity and industrial development'. 'It will make the state a Santosha, Chirunavvulu and Ananda Andhra Pradesh,' he added speaking in Telugu
The flag of the Praja Rajyam Party is with a white coloured flag with a green colour strip in the bottom while a red coloured sun with a yellow colour border is embossed in the middle. Speaking about his idea behind the flag design, Chiranjeevi said he drew inspiration from the nature, the green fields, the sun rise. He added that the sun also symbolizes change and revolution while the White being manifestation of several colours coming together symbolises clean governance and transparency. Regarding the green colour, he said was the basis of life while the yellow outline of the Sun expresses the wish that there should be smile on every face and happiness in every home. "On the other hand every colour also symbolizes different religion. Yellow for Hinduism, green for Islam and white for the Christianity. The party should get support from every section and every person", he said.
With Chiranjeevi's Praja Rajyam party entering the fray, the Andhra Elections are going to be interesting. With all its high ideals and the hoopla serving as the backdrop, let's see what Ganesha has to say about its performance in the coming electoral battle with the help of Vedic Astrology.
Praja Rajyam Party Establishment
Date: August 11, 2008
Time: 00 hours 20 min.
Place: Hyderabad, Andhra Pradesh, India
Praja Rajyam Party Horoscope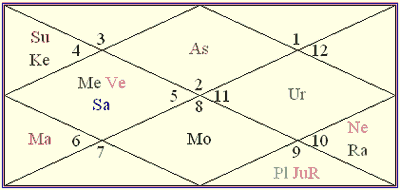 Praja Rajyam's fate in the coming elections
Positive factors
Ganesha notes that transiting Mars will be in Anyo Anya Uchcha Yoga with Jupiter during the time of elections because Mars will be transiting through Pisces, sign ruled by Jupiter and Jupiter will be transiting through Mars' sign of exaltation. This means that the party can gain through the alliance or if seeks support, it will be helpful (exchange in any horoscope is a supportive factor).
Negative factors
Ganesha observes that between 16th and 23rd April 2009, Sun and Mercury will be transiting through the 12th house in Praja Rajyam's Horoscope. Sun's transit through the sign of exaltation but through the 12th house doesn't promise desired glory to this party during these elections at least. Mars will be transiting through Pisces, exactly opposite to Party's Natal Mars hence they will be facing strong opposition. Transiting Jupiter is debilitated and it will be exactly on Natal Neptune indicating scope of disillusion and false hopes. Transiting Venus the Ascendant Lord in Party's chart is retrograde in the 11th house of gains on 16th April but moving direct on 18th immediately after the midnight. This is a positive point but 'well begun is half done'. At the time of election, because Venus is retrograde, there are very few scopes of getting expected result of out the election. Retrograde Saturn will be at 21 degree of Leo, forming inconjunct aspect with Natal Rahu, which is also highly unfavourable. There will be Yod aspect pattern between transiting Saturn, Jupiter and Mars which covers 4th house, 9th house and 11th house. Here, 4th house is the root and desire, 9th house is fortune and 11th house is gains. The Yod Pattern indicates difficulties in achieving success. They will have to be careful of betrayal from the supporters and should not rely on false promises. Transiting Rahu forms inconjunct aspect with Natal Venus posited at 11 degree of Leo so this configuration is also indicating difficulties in accomplishments.
Highly noticeable point is transiting Uranus will be in degreecal opposition to Natal Mars within 1 degree Orb. Mars is the Moon sign Lord in Praja Rajyam's chart and it rules seventh and twelfth houses in this chart. This party will have to be extra careful of allegations from the opponents and should also see to it that someone doesn't take undue advantage of the generosity.
Praja Rajyam win or lose?
Considering many difficult planetary transits explained above, Ganesha feels that Praja Rajyam will not be able to succeed during these elections. They might have to face lot of opposition from other parties and despite their efforts, luck may elude them and the party's performance may be disappointing. In short, Chiranjeevi's star will not shine in these elections.
Good luck and may Lord Ganesha make Praja Rajyam a Chiranjeevi (long lived) party.
Ganesha's Grace,
Bhavesh N. Pattni
The GaneshaSpeaks Team
06 Apr 2009