Only a solid strategy will help Mulayam Singh sail through Lok Sabha elections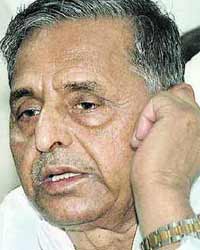 Samajwadi Party (SP) president Mulayam Singh Yadav has been courting controversy since the start of his poll campaign for Lok Sabha elections. To begin with, early in March, Mulayam Singh was pulled up by the Election Commission (EC) for allegedly distributing cash at a 'Holi milan' function held at his native village Saifai.
Before the dust could settle on this incident, the SP leader again earned EC's ire when, in an apparent violation of poll conduct, Mulayam Singh passed a 'sexist remark' against Mainpuri District Magistrate and returning officer Ministhy Dileep and accused her of being of "unsound mind".
Ministhy was targeted for confiscating licensed arms of SP supporters, who were using it to threaten followers of a rival party. In a brazen disregard of election codes, Mulayam told the District Magistrate that he wasn't "commenting on her because she is a woman."
Call it his lucky stars, but the EC has let the SP supremo off the hook in the first instance. However, will he be as fortunate for his second offence? Are there more pitfalls in store for Mulayam? Ganesha takes the help of Vedic Astrology to predict how Mulayam will fare in the general elections.
Mulayam Singh Yadav
Date of birth: 22nd November, 1939
Time of birth: Unknown
Place of birth: Etawah, Uttar Pradesh
Mulayam Singh's Surya Kundli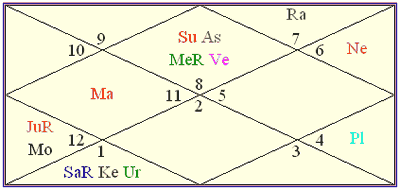 Effect of planetary transits on Mulayam Singh's Surya Kundli
Ganesha observes that during the elections, Jupiter will be transiting over Mulayam Singh's natal Mars placed in Taurus. Mercury will be transiting over natal Saturn, Ketu and Uranus in Aries and later it will be in Aquarius. Mars will be transiting through the sign it has occupied in his natal chart, which means that the SP neta will be under the influence of Mars' return phase.
Based on these factors, Ganesha feels that Mulayam Singh may find it a little difficult this time to plan a strategy for his party, mainly because transiting Mercury squares transiting Saturn and Mars. He may feel pressurised to take certain decisions. Saturn square Sun indicates that if his planning is strategic, it will favour his party.
These elections are going to take a toll on his health if he doesn't avoid stress. Mulayam Singh will also have to avoid confrontations and aggression; in other words, he will have to make discreet speeches or else it may boomerang!
Jupiter's transit over natal Mars indicates that despite such difficulties, the SP president may ultimately channelise his energies to bring pride to his party. However, he may not be very satisfied with the final results of the election as his party may not do extremely well.
Ganesha feels that towards the last quarter of 2009, he will have to think twice before taking any decision. If he watches his steps, he may do well at the political front.
Mulayam Singh's chances of winning his Mainpuri seat
Mulayam Singh will be contesting the Lok Sabha polls from Mainpuri on 7th May, 2009. Following will be the effect of transiting planets on Mulayam Singh's chart:
Moon transits from Virgo to Libra and remains there throughout the day-Unfavourable
Sun in Aries over his natal Saturn, Uranus and Ketu-Unfavourable
Mars in Pisces over natal Jupiter-Favourable
Jupiter in Aquarius over natal Mars-Favourable
Venus in Pisces over natal Jupiter-Favourable
Saturn in Leo opposite natal Mars-Unfavourable (Restrictive)
Rahu and Ketu in 3rd and 9th Houses from Sun-Favourable
Considering the planetary transits mentioned above, Ganesha feels that Mulayam Singh will win but with a narrow margin.
Good luck and may Lord Ganesha bless Mulayam Singh with success.
Ganesha's Grace,
Bhavesh N. Pattni
The GaneshaSpeaks Team
03 Apr 2009