Ganesha says fight ahead is tough for JD(U) boss Sharad Yadav
India's 15th Lok Sabha elections are fast resembling a kaleidoscope-new alliances and rifts are changing the dynamics of party politics every day. Consider this: a seemingly casual courtesy call by leader of one political party to that of another creates a flutter in the media and sets the grapevine abuzz with possibilities of a new tie-up.
That's what happened when JD(U) chief and NDA convenor Sharad Yadav met CPI(M) leader Sitaram Yechury recently. The Third Front has already managed to snatch Naveen Patnaik-headed Biju Janata Dal from the BJP-led coalition. Is JD(U) next?
While its head and Rajya Sabha member denies chances of any such link-ups, Ganesha forecasts how Sharad Yadav will fare in the general elections, which he will contest from his constituency Madhepura.
DOB: 2nd July, 1947
TOB: Unknown (Surya Kundali)
POB: Babai (MP)
Election Date: 30th April, 2009 (Madhepura)
Astro Analysis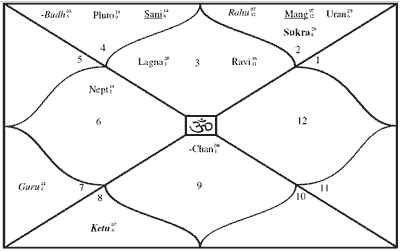 On the election date, Guru, the Lord of his 10th House of success, will be debilitated and at the end of the sign, becoming very weak.
Sukra, Lord of Sharad Yadav's 12th House of losses, will be powerful in the transit as it will be exalted and in the 10th House of success.
Transiting Guru will also be square to its own natal position.
Transiting Ketu will aspect the 10th House.
Predictions
Ganesha feels that Sharad Yadav will face many trials and tribulations during this general elections. He will be given a tough fight by his opponents. As a personality, the JD(U) chief is tough and strong and does not seem to come across as a loser, but the celestial embroidery woven in his birth chart neither presents a promising sight nor supports his ambitions. It seems he will get fewer votes this time.
Summary
In a nutshell, Ganesha feels that though Sharad Yadav may win the elections, compared to the 2004 Lok Sabha polls, he will come to power with a reduced margin. Also, the fight ahead is tough for him. Only if his horoscope and transit prove better than his opponents will he emerge king of Madhepura (Bihar).
May Lord Ganesha bless Sharad Yadav.
Ganesha's Grace
Rikhav Khimasia
The GaneshaSpeaks Team
01 Apr 2009