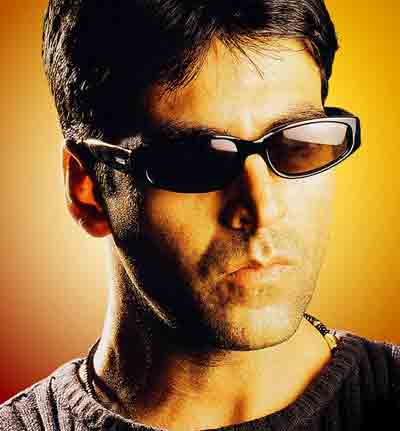 From Chandni Chowk to China to Bollywood, actor Akshay Kumar has come a long way. This humble daredevil has given Indian film audiences — who were getting increasingly deprived of good action flicks as the angry young men of Bollywood were turning soft — a lot to cheer about. His larger-than-life image and down-to-earth attitude has earned him a lot of fans even among his contemporaries.

Recently, besides a series of successes like Welcome, Bhool Bhulaiya, Heyy Baby and Namastey London, he has also acted in a string of flops such as Chandni Chowk to China and Tasveer 8X10. But, with the success of Singh is Kinng, Akshay is back in the contention for the top slot among Bollywood's silver screen hunks.

Ganesha studies Akshay Kumar's stars and predicts the fate of Bollywood's Mr Dependable.


Birth Details
DOB: 9th September, 1967
POB: Amritsar
TOB: Unavailable (Surya Kundali)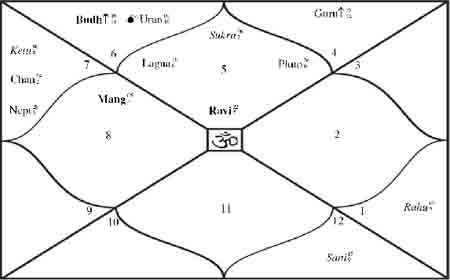 Astro Analysis


Sun is the signifier of success and is swagruhi (in own sign). This allows one good potential for success.
Sukra (Venus), the signifier of glamour, is exactly in trine with Rahu, which has brought Akshay success in the glamour industry as it uses more of Rahu (Maya and Chaaya) in its techniques and technologies.
Ketu is a malefic planet with separative tendencies.
The Sun-Ketu distance is 44 which, when compared to the actor's age, is an indicative point because Akshay is nearing 44.
Progressed Sun is applying conjunction with natal Ketu and exact conjunction with progressed Ketu, a very strong contending indicator of Akshay's career and success.
Prediction
Ganesha finds that in the last two years, Akshay Kumar's stars have been on a receding scale. He has been doing only those films that revolve around him. This can be detrimental to his career.
Now, considering the separative influences and the astro indicators above, Akshay seems to be a fading star. His movies may be a bit successful in the absence of other good films, but if he has competition, he may not be able to perform as well as he has been performing in recent times. He seems to be approaching a dead-end in his career as far as Bollywood is concerned.
Wishing him good luck and may Lord Ganesha bless him.
Ganesha's Grace
Rikhav Khimasia
The GaneshaSpeaks Team
01 Jun 2009