Ganesha foresees an average outing for Captain Cool during the present Cricket World Cup.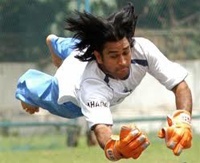 Gone is the famous, flamboyant mane, replaced by an ice-cool head on his shoulders, just what is needed for a captain to buck his team up in pressure situations. Indian captain Mahendra Singh Dhoni has come a long way since his debut against Bangladesh in 2003. Now when he leads the Indian team against the same opposition in the World Cup opener on February 19, he will be leading a campaign that fans hope will culminate on April 2 with the lifting of the Cup, over a quarter of a century after Kapil's Devils did it in 1983. Kapil did it with a team branded as underdogs, while Dhoni has the advantage of having a team that is studded with hard-hitters who can change the complexion of a game single-handedly. Add to that the favourable home conditions and jam-packed stadiums to cheer them up. A heady mix, which by itself is enough to propel the team to raise the bar higher than any other team can scale.
With a good team and a good form, will Mahi be able to live up to the expectations of the cricket frenzy nation during the forthcoming World Cup? Ganesha, with the help of Vedic astrology, tries to find out.
At present the transiting Ketu is moving over the natal Sun, the transiting Saturn is moving over the natal Saturn forming a square with Sun and the transiting Rahu is passing through the 7th House from the natal Sun forming a square with Saturn. Due to this difficult transit, his performance in the Cricket World Cup, 2011 will be average. Due to the favourable transit of Sun and Jupiter, Ganesha feels that his performance in the first match against Bangladesh and third match against Ireland will be very good and we can expect big scores from him. However, his performance will be very average in other matches of the first round. He may not be able to convert good starts into big scores during the quarter and semi-final matches. But he may contribute useful runs if India reach the finals.
We wish him good luck and may Lord Ganesha bless him.
With Ganesha's Grace,
Tanmay K.Thakar
The GaneshaSpeaks Team
Predict who will win the Cup & Win a 42 inch LCD Tv!
17 Feb 2011