Ganesha decodes the unpredictable Sharad Pawar
Maratha strongman and Nationalist Congress Party (NCP) boss Sharad Pawar loves to keep foes and friends guessing about his next move, especially when the country is gearing up for the 15th Lok Sabha elections. So, while he takes up cudgels against allied partner and ruling party UPA, he frustrates friends in the BJP with his closed-door meetings with Shiv Sena leaders.
Roughly two weeks ago, Pawar had sounded the bugle that a Maharashtrian should be given a chance to become India's prime minister. But, in a turnabout, he forged a seat-sharing alliance with Congress on March 25th, whereby Congress will contest 26 and the NCP 22 of the 48 Lok Sabha seats in the state. He also openly endorsed Manmohan Singh as UPA's prime ministerial candidate for the coming Lok Sabha elections.
There's more up his sleeve: in the run-up to the general elections that start on April 16th, 2009, the secretive NCP chief has also decided to campaign for Samajwadi Party candidates in Uttar Pradesh.
Just what is Pawar's election strategy? Will he spring more surprises? From his astrological apparatus, Ganesha pulls out some ancient scriptures to predict the political moves of a very unpredictable Pawar.
Sharad Pawar
DOB: 12th December, 1940
POB: Pune
TOB: Unavailable (Surya Kundali)
Election date: 23rd April, 2009
Astro Analysis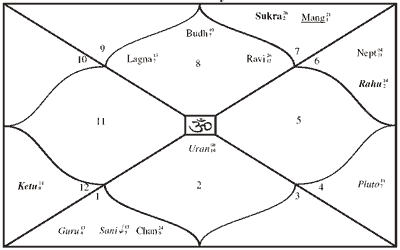 Sun, the Lord of his 10th House of power and status, will be exalted in his 6th House with natal Jupiter, Saturn and Moon. Transiting Mercury, Lord of his 11th House of gains, will also be in conjunction with transiting Sun in the 6th House with natal Jupiter, Saturn and Moon.
Predictions
Ganesha notes that the total of Sharad Pawar's full birth date is 2; the date on which the NCP leader will contest the elections from Madha Lok Sabha seat also adds up to 2. Thus, this is an affirmative indication for Pawar.
Transiting Sun being exalted and trine to the 10th House of his Surya Kundali is also a good sign, notes Ganesha. Success is thus assured.
However, Ganesha notes that as transiting Rahu will be square to transiting Sun and transiting Ketu will aspect his natal Sun, the chances of him winning with a great majority are quite slim.
Ganesha also predicts that he may not be able to make a clean sweep in the Lok Sabha polls and NCP's hold in Maharashtra may lose its grip.
Summary
To put it simply, NCP chief Sharad Pawar may not have an overwhelming victory in this year's Lok Sabha elections.
Nevertheless, Ganesha wishes him good luck
Ganesha's Grace
Rikhav Khimasia
The GaneshaSpeaks Team
01 Apr 2009