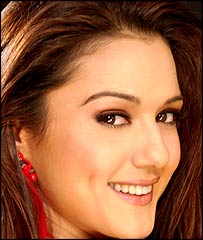 As the sprightly Liril Girl, she sparked the interest of top notch director Shekhar Kapur, who recommended her for Dil Se. After that, the perky Preity Zinta never looked back. She went on to sign big-banner films opposite some of the most famous leading men in Bollywood.

Never one to hide her relationships, Preity was officially steady with model Marc Robinson for a year, until it ended abruptly. After a few more supposed link-ups with stars and a relationship with a foreign national working in India, she met the dashing and debonair entrepreneur Ness Wadia at a party hosted by their common friend Shahrukh Khan. Heir apparent and scion to Bombay Dyeing, the flagship company of the Wadia family, Ness was the quintessential eligible bachelor.

Their relationship took off in 2005, and they caught the imagination of shutterbugs as the intelligent, dignified, made-for-each-other duo. By 2008, when they jointly acquired the rights of the IPL cricket team Kings XI Punjab, it appeared to be a move to seal their partnership.

When talk of their split gained momentum, fans took it as yet another shot in the dark, especially as Preity categorically denied the split. Speculation persisted as they sat apart during the IPL matches and without doubt, the warm vibes were missing. And finally, Preity confirmed the worst, stating recently that she is single again. Find out what Ganesha says about the estranged couple's future: Will Preity and Ness get back together or will they go their separate ways?

Preity Zinta's Surya Kundli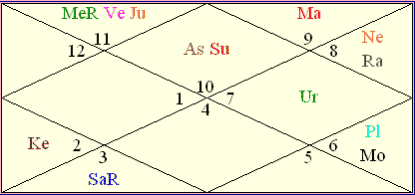 Astrological observations


Ganesha notes that in Preity's surya kundli, Rahu is transiting over natal Sun and Ketu is transiting through the 7th house – also known as the personal relationship axis or 1st House-7th House axis. This is the reason for her split with Ness.
Venus, Jupiter and retrograde Mercury are placed in Aquarius. Preity has already entered the Jupiter return phase but in mid-July 2009, a transiting Jupiter becomes retrograde and will be back in Capricorn on 31st July, 2009.
Natal Venus is associated with natural benefic Jupiter, indicating that she could be lucky in relationships, and that whatever has happened is due to adverse planetary transits.
What next in Preity's love life?
A transiting Jupiter will maintain its position in Aquarius for a while, but because it is not going to touch Preity's natal Venus' degree, a chance of reconciliation with Ness is very weak. Despite this, Ganesha doesn't find her love life bleak.
Transiting Jupiter will enter Aquarius again on 20th December, 2009. This is an excellent indication for Preity's love life for two reasons. One, because Jupiter's return phase, at times, also brings back that which has been lost (things and people). Secondly, this phase offers much wisdom and many opportunities that one can avail. The actor is lucky to have such a phase approaching.
The period between 19th December, 2009 and 2nd May 2010 is important for Preity's love life, and she may find herself in a very desirable relationship during that period.
In short, luck will not elude her for very long. Let's see whether it is lucky Ness who will return in the actor's life or simply someone else!
Good luck and may Lord Ganesha bless Preity Zinta!
Ganesha's Grace,
Bhavesh N Pattni
The GaneshaSpeaks Team
27 Jun 2009