BJP candidate Kiran Patel; a businessman, an educationalist, … now a politician?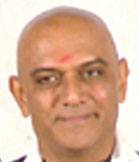 Kiran Patel was born on the 23rd of October,1952 in Moti Paneli Village in Rajkot. His father Shri Valjibhai Patel, shifted base to Rajkot and today is a well known industrialist cum businessman. Kiran Patel enrolled in a primary school in the village and later on was educated in The Rajkumar College, Rajkot. After schooling he went on to St. Xavier's college, Mumbai where he graduated with History and Political Science. He moved to Georgia University in the US for his masters in political science and finished the course, however he could not get his degree certificate as he returned to India for appearing in IAS exams. As the country was under the state of emergency during 1975-77, his wish remained unfulfilled. It was in 1988 that he completed his post graduation from the Georgia University. It was his love for education that made him start the Galaxy Education System. With this sort of background, let's see what Ganesha has to say about the future of Kiran Patel.
Horoscope of Kiran Valjibhai Patel
Birth Time :- 05.00 am (Kartak Sud Pancham)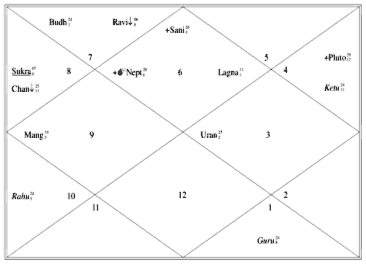 Astro Analysis
Kiran Patel was born under Virgo Ascendant and Aries Navamsha. Mercury, the Ascendnat Lord is posited in the 2nd house.
Ganesha notes that he is under the influence of Rahu return in the 5th house of luck and destiny. This may lead him to conflicts with subordinates.
Moreover, he is under the influence of Rahu Mahadasha and Rahu Antardsha, the sub-sub periods of Jupiter till May 14, 2009. Jupiter signifies the 7th house of opponent, the 8th house of difficulties and the 9th house of fortune. Rahu signifies the 8th house of troubles in his chart.
Prediction
Ganesha feels that he may face unexpected problems till May 14, 2009. However, chances of victory are also foreseen due to the sub-sub phases of Jupiter. He may also face heavy expenses till the said period.
Ganesha suggests him to perform the following remedies:
He should get the Laghu Rudri done by a proficient Brahmin.
He should also get the Nava-Chandi Yagna done by a proficient Brahmin.
Wishing him good luck and may Lord Ganesha bless him.
Ganesha's Grace
Malav Bhatt
The GaneshaSpeaks Team
15 Apr 2009