Ace-shooter Abhinav Bindra may miss the target in London Olympics, feels Ganesha.

2012 London Olympics are merely two weeks away, and as the world awaits this magnificent and towering sporting event, athletes across the world gear up to join the race to eternal glory and win invaluable medals for their countries. Indian sporting squad too is all set to embark to the venue city amidst all the hopes and speculations. And, amongst the Indian sports-persons participating at the 2012 London Olympics, there is this player, who has already seen and brought home the Olympic pride and glory, and he is no other than the ace rifle shooter Abhinav Bindra. Bindra had brought home an Olympic Gold, unfortunately still a rarity for India, only at the previous edition of the great sporting event held at Beijing in 2008. Abhinav hails from the lands of Punjab, and at a young age of 17, he had become the youngest recipient of the prestigious Rajiv Gandhi Khel Ratna Award. He has been the only Indian player so far to have secured an individual Gold Medal at the Olympics. Among the many awards that he has earned over the years include the Arjuna Award, the Padma Bhushan Award and the Bharat Shiromani Award. His glorious career and unparalleled success as an air rifle shooter have made him a role model for many sports enthusiasts and aspirants all across.

Now, as we are set to add another chapter in the history with London Olympics 2012, will Abhinav be able to recreate the magic and repeat the history? Will Abhinav manage to rise as the best one more time? Ganesha analyses his Natal Chart, and attempts to find out whether this 29 years old champion shooter will once again bring joy and pride to India.



Abhinav Bindra � Surya Kundali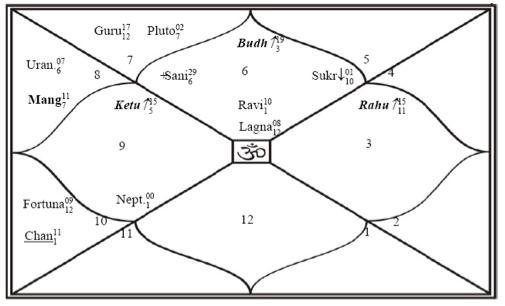 Astrological Observations and Predictions
Abhinav has an exalted Mercury placed with a debilitated Venus, which thus forms the Neechabhanga Rajayoga. This means that he is blessed by planets to achieve fame. He is a textbook case of the focused, sometimes obsessive, individual.
Mars, the planet of attack, becomes strong in Abhinav's Kundali as it is in its own Sign. A Strong Mars is always a boon for any sports-person. It makes him forceful and aggressive. Saturn is Atmakaraka, which becomes powerful by being Vargottama. That is why Abhinav is is destined to be disciplined, hard working and persistent.
During the London Olympics, the transiting Jupiter and Venus in Taurus will be in Trine with Mercury, Venus, Sun and Saturn. It will make him capable enough to handle any kind of adverse situations. But, the transiting Saturn in Virgo may cause few problems for the champion.
Also, the transiting Moon on the event date doesn't look set to be very favourable for Abhinav Bindra's endeavours. Some disruptions may shift his focus or some constraints may hamper his progress, foresees Ganesha.
Lack of focus at such a crucial moment may lead to problems, and as a result, Bindra might not be able to achieve the desired results. He may not be able to live up to his standards. To sum it up, Ganesha feels that Bindra may end up missing the target, and may not be able to repeat the history.
We wish him good luck. May Lord Ganesha bless him.


With Ganesha's Grace,
Tanmay K.Thakar
The GaneshaSpeaks Team