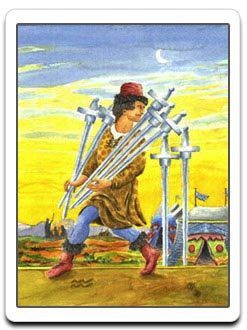 Aries – 7 of Swords Upright
There is a man on the card of Seven of Swords, sneaking away from a military camp. He has a bundle of 5 swords in his hands, there are two swords planted in the ground just behind him. The appearance of this card in your readings indicates your secret wish to get away with something. The group of soldiers on this card suggest that the man has been seen/ caught. Hence, the card further indicates that your attempts to hide your motives/ deeds/ secrets will go in vain as much to your embarrassment. If you are trying to gain advantage over something or someone, be extremely cautious. You may be very tempted to just wash your hands of a situation as you may no longer be interested in the matter. But know that there is no escape. Sometimes this card also indicates the desire to move on in life on your own.
Lesson:
Whether you like it or not, sometimes you have no option but to face a particular situation. Be very careful while handling a delicate situation this month, and be wary of people who claim to be your well-wishers. This will help you guard yourself against betrayal, deception and fake promises. If you find something fishy, investigate and try to go to the root of the matter. If you desire to be independent, ensure that you think through the possible consequences of acting alone.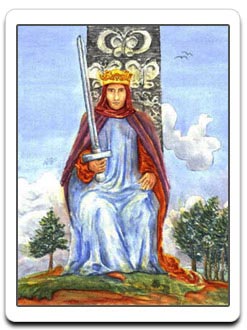 Taurus – King of Swords Upright
On the card of King of Swords, there is a king sitting upon his throne with a large upward-pointing sword in his right hand. His left hand rests gently upon his lap. This particular card is associated with clarity of thought, intelligence and power. The appearance of this card in your tarot readings indicates that a favourable period is in store for you. You will be blessed with a lot of authority and you will use it with compassion, not as a tyrant. During this month, you will try and be unbiased in your approach and people will respect your sense of judgment and positivity. On the personal front, each action of yours will speak volumes about your confidence. You will be courageous but at the same time practical while setting your goals. And those who dare to cross your path will have to change their plans.
Lesson:
You can not always let yourself get carried away by emotion; at times you have to be firm about your opinion. It is not easy to remain unaffected by circumstances, but you should now be detached and objective in your approach while handling important matters, more so because your reputation is at stake. Seek advice and be well-informed about the subject before you make any decision, especially if it is related to a financial or legal issue.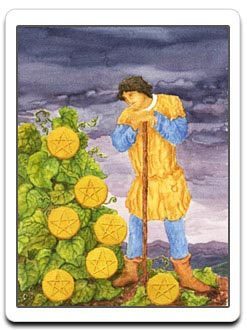 Gemini – 7 of Pentacles Upright
On the card of Seven of Pentacles is a picture of a young man who is taking a break from the difficult work of harvesting his abundant crop. The card suggests that his efforts have paid off. The appearance of Seven of Pentacles in your tarot readings indicates that you have been working very hard on a particular project or an area of your life. The day when you shall reap the harvest and enjoy the fruits of your labour is just round the corner. The question is how soon will you see that day? There is a possibility that you will not be happy and satisfied with the final outcome of your efforts. Don't curse your luck, as the fault could be in your planning and execution. Your expectations may be unreasonable, too. This card indicates that you may be interested in investing your time and energy in activities that will give sustainable and long-term benefits.
Lesson:
As you see your projects get closer to the finishing line you may feel proud to have worked with determination and confident. Enjoy your success, but don't waste too much time in celebrating. Continue to march forward, whether or not you are satisfied with the current scenario and status of your projects. However, you may slow down to take stock of the situation so that you can make necessary changes in your plans. Avoid being overambitious.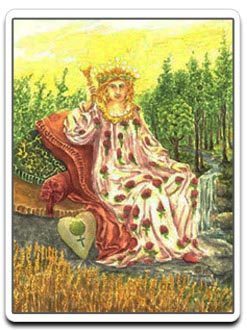 Cancer – The Empress Upright
The appearance of this card in your readings indicates a lot of things – sensuality, fertility, beauty, creative expression, nurturing and all those elements that help to create balance in men and women alike. The Empress card carries an image of a full-figured woman, wearing a crown and a patterned robe. She is surrounded by a lush green forest with a stream running through it. The appearance of this particular card in your readings indicates a deep connection with your femininity. During the month ahead, take a break from the routine and take up activities that will recharge your batteries. You need to connect with your feminine energy, explore your surroundings, spend more time appreciating Mother Nature and create a beautiful world around you. Spend time with your loved ones so that you can strengthen your bond with them. If you are a parent, this card indicates that you should now focus more on your children.
Lesson:
The material world has been keeping you on the toes, but it's high time you relaxed your nerves and focused on your own well-being. Take a moment to look around and appreciate what you have. This card suggests you to initiate dialogues, express your feelings and support your loved ones in their endeavours. Also, develop the ideas that have been growing inside of your mind. Matters related to work, finances and property can wait for some time.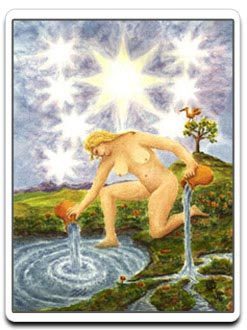 Leo – The Star Upright
The positive energy floating around you may be encouraging you to bring your latent talents to the fore and explore the world. Also, the day-to-day experiences may be helping you understand your surroundings and circumstances in a better manner. The Star card depicts a naked woman, kneeling at the edge of a small pool. There is one large bright star and seven small stars in the background. These stars represents your chakras. Be ready to grab opportunities coming your way as you are about to enter or have already entered an exciting phase in your life. Good times are in store for you but in order to make things happen you should first realise that you deserve a better future. You may now also go on a spiritual journey and know what your inner strengths are, as a result, you will be able to ignore all the negative feedback and opposition. Your positive attitude will definitely take you closer to your goals.
Lesson:
Yes, it is not easy to free yourself from negative emotions like hatred, envy, bitterness and revenge, but try your best to be positive and take the bad experiences as lessons of life. The Star card indicates that you have gone through a rough patch and now you are open to healing and transformation. It is time to re-build your self-esteem, look at matters with a fresh perspective and realise your dreams.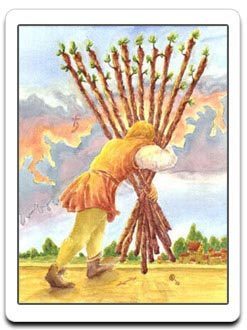 Virgo – Ten of Wands Upright
On the card of Ten of Wands there is a picture of a man carrying a very heavy bundle of wands or sticks. The burden appears to be too heavy, but the town/ home he is walking towards is not too far, so he is giving it his best during this last few steps of his journey. The appearance of this card in your tarot reading indicates that a certain task, project or activity is in its final stages. The finishing line is in sight, however, this last stretch may seem too difficult to complete. You may feel mentally and physically drained out, so much so that you may even regret taking up a difficult task in the first place. Take it easy! This card indicates that all the trouble you have taken to reach your goals will not go in vain. But make sure you avoid taking unnecessary load, as it will badly affect your efficiency levels.
Lesson:
You may have to pay a heavy price for insisting on doing things all by yourself, as it is this tendency of yours which has put you in a situation like this. Learn to delegate work and trust the people you delegate the work to. Also, learn to manage your time well so that you can make the most of the time and resources at your disposal. If you think you can't do justice to a job, don't accept it.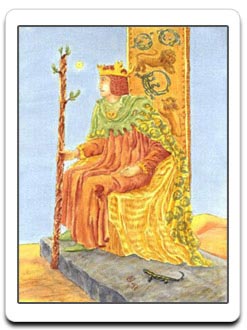 Libra – King of Wands Reversed
This card carries a picture of a king with a blossoming wand in his hand. This wand represents creativity and positivity. But when the King of Wands appears reversed in your readings, it indicates that you are taking impulsive, hasty decisions. Also, you may tend to be dominating and overbearing on many occasions. Your actions may not be driven by any sort of evil intention but the fact remains that you may often cross the line between aggressiveness and assertiveness. The reversed King of Wands suggests that you are being highly competitive and may have pinned your expectations too high. Every time something goes against your plans or expectations, you are likely to feel very disappointed. If you are in love, the reversed King of Wands warns you against indulging into flirting, as it may greatly damage your love life and emotional stability.
Lesson:
The reversed King of Wands tells you to be lenient and set realistic goals if you don't want your relationships to get spoiled. This applies to the matters related to your personal life as well as career. Cut down on your dependence on others, after all, not everyone is as energetic and motivated as you are, so you need to accept this fact to save yourself from recurring failures and disappointments.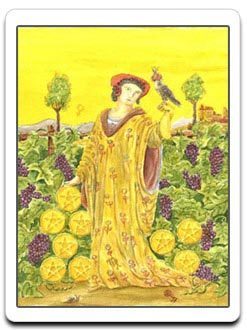 Scorpio – 9 of Pentacles Upright
Confident and independent, you may be feeling a sense of accomplishment right now. The Nine of Pentacles depicts a mature woman walking in the midst of a vineyard, the golden coins represents success and satisfaction. This card also symbolises one's spiritual inclination and intellectual power. The appearance of Nine of Pentacles in your tarot readings indicates that you appreciate your present and are glad that you have learned some important lessons of life. It is now time to enjoy the fruits of your hard-work, more so because the hardships are very much over. So, sit back, relax, go on a vacation, spend money the way you want to and make your life more comfortable. Consider this to be a sign that tells you to be receptive and appreciate the beauty and abundance of energy in nature. You may take up activities like gardening or go for walks in the park.
Lesson:
The lady on the card of Nine of Pentacles symbolises a life that you have always dreamed about. But in order to achieve it, you need to be disciplined and make sure that you don't give in to temptations. Carry yourself with poise and grace, and also be tactful and diplomatic while dealing with people around you. This card tells you to focus on your goals.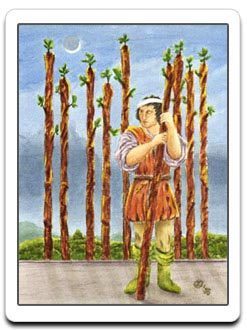 Sagittarius – 9 of Wands Upright
The Nine of Wands card carries an image of a man who appears to be tired and injured. He has fought some tough battles and has come out triumphant, but there may be more struggle awaiting him. Although he is drained and exhausted, he is ready to fight the odds again. The appearance of this card indicates accomplishment and victory, despite fatigue, setbacks, opposition and disappointments. You may have faced struggle or setbacks in the recent past, even when you were near the finishing line in a recent project/ area of life. But, with your faith and conviction, you either managed to get what you aspired or acquired another milestone on your way to success. There may be some struggle this month but you will soon meet success, thanks to your determination and resilience. You may also consider this card as one last test before you cross the finishing line.
Lesson:
You may have second thoughts about your decisions and goals, but don't give up now as you may be hardly a few steps away from victory. Make sure you continue the momentum, as slowing down may deviate you from your path. If there are things that do not add any value to your cause, give them up. Be willing to take risks, but make sure that you are patient in your approach. Don't put your guards down.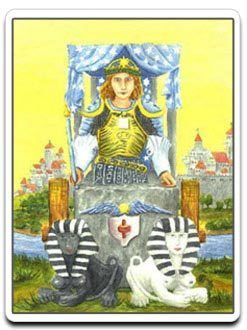 Capricorn – The Chariot Upright
No matter who you are, you have to face opposition and criticism at some point or the other, but how you overcome all that negativity is what sets you apart from the rest. If you believe in your strengths and plans, you can successfully face any challenge that life throws at you. Be a little more tactful and make the most of the resources at your disposal. Don't be tensed about the struggle, as it is only preparing you for the battles that you may have to fight in the future. As far as your goals are concerned, the Chariot tells you to be disciplined and cultivate the ability to grab the bull by its horns, and more importantly, to come to terms with your aggressiveness. You cannot suppress aggression, you need to channelise that energy by taking up constructive activities and utilising resources wisely. Also, ensure that you don't be at the mercy of your emotions. Be practical.
Lesson:
Be a go-getter in life- this is what the Chariot card tells you to do. You may feel confused and lost at times but don't let the this affect your confidence. Know that you can overcome any situation if you know your strengths and weaknesses well enough. Therefore, spend some time in solitude, reflect on your actions and develop a better connection with your inner-self.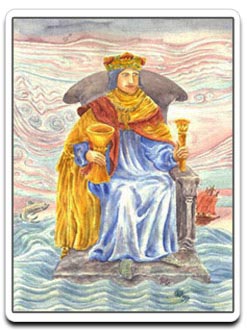 Aquarius – King of Cups Upright
A symbol of emotions, creativity and the unconscious, the King of Cups is about expressing restraint in emotional state. The appearance of this card in your tarot readings symbolises that you may be feeling emotionally charged up at the moment, but you will not let your sentiments affect your rationale. In other words, you are very much in control of your emotions. During this month, you will be a lot more compassionate and kind, and will build your relationships stronger. If you are going through a challenging period, this card tells you to harness your mental energy before making any important decisions. Discipline will help you go a long way. This card also indicates the possibility of an older male making a significant difference to your life. He is someone who is kind, considerate and a bit assertive. This could even be you yourself!
Lesson:
Rather than repressing your emotional energy, divert it in a direction that leads you to accomplishments and success on all fronts of life. Be creative and try to think out-of-the-box to look at life with a fresh perspective. Although there may still be challenges, the positive approach with which you will handle them will certainly make a world of difference to your life.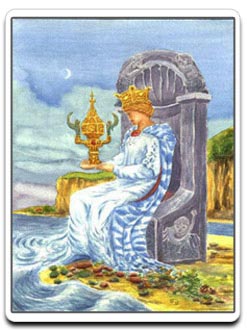 Pisces – Queen of Cups Upright
The Queen of Cups symbolises a woman who plays a number of roles in her life. She is sensitive, relaxed, secure and very much aware of the depths of her own soul. Beautiful and compassionate, this lady is also authoritative and nurturing. The appearance of this card points at the presence of a mature female or a divine, feminine influence that shall make your life beautiful – this could also be you yourself! Be caring towards others and also listen to your inner voice. You may be miles away from logical thinking, so there is a strong possibility of you becoming passive and vulnerable. The Queen of Cups tells you to let your creativity surface and be more expressive. It is important that you channelise your emotional energy in the right direction. You shall rise and shine if you are involved in pursuits like arts, music, writing etc.
Lesson:
You need to motivate yourself, rise above the rest and nurture your relationships. Help those in need and you will get priceless blessings in return. You may be highly emotional during this phase, but know that all this excess of emotion and the heightened sensitivity may leave you vulnerable. If you feel confused over some important matters, trust your gut feeling to guide you in the right direction.
Read more about Tarot