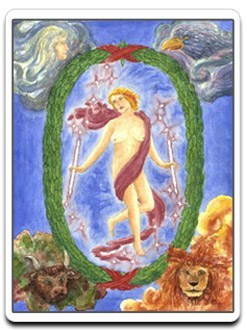 Aries – the World – upright
There is an image of a dancing figure on the World card (upright), being in high spirits and enjoying success and accomplishments. The figure signifies new beginnings and promising future. Appearance of this particular card in your readings indicates that all your hard-work and plans are finally paying off and you are about to reach or have already reached your destination. The hardships and struggle have made you a better, stronger and wiser person. The arrival of good times calls for celebrations! People around you will recognise your achievements and give you a pat on the back. In fact, this is a good period for each aspect of your life, be it love, career, health, finances or travel. However, avoid loosening the purse strings even though your financial condition may be good right now. And talking about travelling, it is quite possible that you will be travelling extensively and visit numerous places. Wherever you will go, you will be welcomed with open arms.
Lesson:
You need to develop greater understanding to enjoy the fruits of your persistent hard-work. Celebrate you success and consider this to be an opportunity to identify your strengths and weaknesses. The World card also advises you to understand the role you play in the world around you. Don't be in confinement, you need to spread out and explore the world further. If you are going through some major changes, the World card assures that they are for good.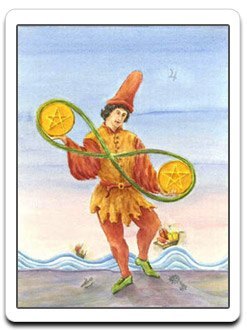 Taurus – Two of pentacles – upright
On the card of Two of Pentacles, a young man dances and the infinity sign loops around the two Pentacles he is juggling. It suggests that he can handle multiple problems simultaneously. The appearance of this card in your readings indicates that you need to establish balance in various areas of your life. You may be experiencing opposing desires and interests at the moment. Make efforts to bring balance and harmony in your life while you handle the demands upon you. Don't just focus on your long-term goals, pay enough attention to you routine and ensure that you daily life is in order. Be extra careful about your finances, otherwise striking a balance between inflow and outflow of cash would become challenging. Sometimes, the Two of Pentacles can indicate hardships that may be in the offing. It is advisable to that you learn to be adaptable and flexible so that you can withstand the challenges in a better manner.
Lesson:
The appearance of Two of Pentacles in your reading tells you to take immediate steps to bring order and balance in your life, especially in the matters related to finances. If it has all become too difficult to deal with, try to look at things from a different perspective and employ a novel approach to handle circumstances more positively. Besides, there is a strong possibility that you will meet exciting opportunities while doing so. Go, be with the flow and explore the world!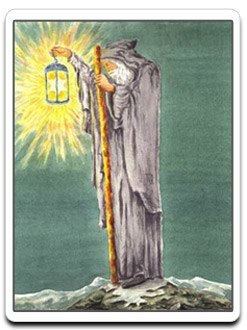 Gemini – The Hermit – upright
On this card, there an image of a hermit, standing alone on the top of a snow-covered mountain with a lantern in his hand. The appearance of this card in your reading means that you have entered a phase of introspection and you have now started looking for answers within. You may have been judgemental so far but your experiences have gradually taught you to be unbiased and to accept the choices that people make. You may be feeling an urge to understand the intricacies of life right now. This card suggests that it is a good time to slow down your pace and deeply think about your goals, values, motivations and personal principles. Move away from the material world and explore spiritual pursuits. It is okay if you don't have any company, learn to be in solitude. You must find your own path, on your own.
Lesson:
The Hermit card indicates that you should strike out on your own and do what your inner voice is telling you to do. You may be sceptical about the success of your venture/ actions/ journey, but there is a possibility that you will regret not listening to your instincts. This card is about the understanding that maturity and experiences bring. Perhaps you need a break from all the daily rigmarole and go away for a while.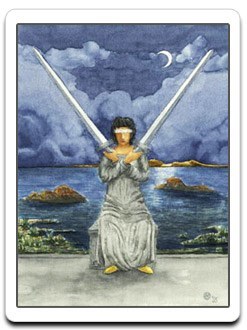 Cancer – Two of Swords – upright
The image on the card of Two of Swords depicts a young, blindfolded woman holding a sword in each hand. The state of calm that the lady on the card is portraying indicates that she may be trying to avoid some important decisions. You may be at a crossroads in your life right now and the appearance of this card in your reading indicates that you may not be able to make up your mind to take a firm decision. You are perhaps ignoring the presence of a problem completely but be sure that the situation will not go away of its own accord. You will eventually have to remove your blindfold and face the circumstances directly. A decision must be made, sooner or later. You may need to change your usual way of thinking, so that you can see the same things from a different perspective and arrive at a decision.
Lesson:
Your unwillingness to accept the reality will not make any difference to the situation you may be in at this moment. If you are in a conflict with someone, you need to appreciate the other person's views although you may not agree with them. Ignorance is not bliss, you need to understand that. The Two of Swords tells you to that hiding from the truth or hiding the truth will not bring the peace or harmony in your life.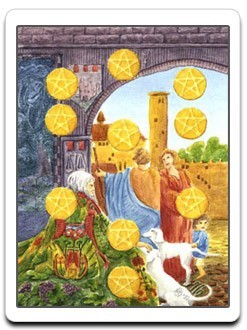 Leo – Ten of Pentacles – upright
There is an image of an aged man, surrounded by his family and pets, sitting comfortably just outside an archway. The appearance of Ten of Pentacles in your Tarot reading indicates that you have earned or will earn rewards that are rightfully yours. Wealth, prosperity and strong financial security are indicated. Your career may also be on the upswing. You have laid a firm foundation and the good times are here to stay. In all likelihood, you may realise your long-cherished dreams any time soon. Family and the needs of your loved ones will be in focus as you may be more inclined to ensure that their desires are fulfilled. And your current financial position will allow you to buy the things that you always wanted to. Your success and achievements will be recognised. Needless to say, your social status will also improve.
Lesson:
Along with your long-term goals, you should focus on your short-term goals in order to achieve sustainable growth. Aim to invest in the right areas to reach closer to your ultimate goals. However, don't expect to get rich overnight as the rewards for your hard-work may not always be in terms of money and assets. The process will be gradual, so be patient and keep up the spirits.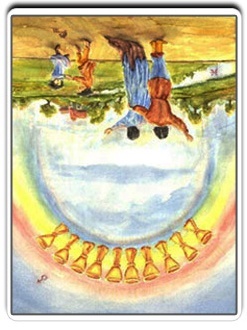 Virgo – Ten of Cups – reversed
The reversed Ten of Cups indicates that some of the crucial decisions have gone wrong and the current scenario is completely different than what you expected. You bottled-up your emotions, choosing to ignore the obvious consequences. You may be feeling increasingly angry and frustrated, and you will continue to feel so if you will not channelise the negative energy in the right direction. You are not living by your personal values, allowing others to influence your life more than necessary. The appearance of Ten of Cups (reversed) in your reading says that you are ignoring your personal life and responsibilities in your bid to pursue material goals and climb up the success ladder. There is no balance between your work life and personal life, and it is getting worse by the day. If you continue to behave like this, your relationships will end up bearing the burnt of your irresponsible behaviour, and then your worldly achievements will have no meaning.
Lesson:
You need to bring some order in your life, otherwise it will be too late to restore the damage. You may rushing around to get things done but you need to spare some time for the lingering issues. The appearance of this card in your readings suggests that the way you will treat others shall decide how you will be treated. So, respect others. You also need to handle your emotions in a more mature way.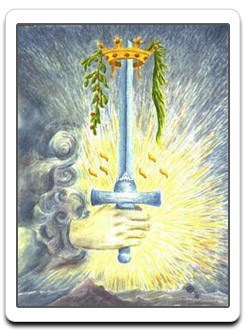 Libra – Ace of Swords – upright
The Ace of Swords is a card symbolising the mind and the intellect. It indicates success, victory and clarity of mind. The appearance of this card in your readings indicates that you need to get your mind, body and soul in a perfect sync to reach your goals. It's time to get your act together! Consider this to be the right time to explore your hidden potential and put in great efforts to accomplish what you are capable of achieving. Now don't let any doubts, misunderstandings or confusions hamper your progress. Be aggressive in your approach and aim for the target. You may utilise this favourable period to seek the truth, get to the bottom of the matters without getting demoralised by the uncertain future. Sometimes, the Ace of Swords suggests that you are all set for "war" and you are determined to come out triumphant.
Lesson:
You may not be seeing the actual picture right now. The appearance of the Ace of Swords in your readings indicates that you have to accept the reality in its pure form, especially the truth about a relationship or a particular situation in your life right now. Use your mental force and your analytical abilities while taking decisions, particularly the crucial ones. If there is an issue close to your heart, you should stand your ground and fight for it.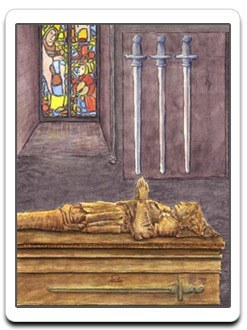 Scorpio – Four of Swords – upright
The Four of Swords indicates that though the challenging period is not over you may now afford to slow down, rest and recharge your energies. Once recovered, you can and will return to the challenge and resume your efforts to bring success, peace and harmony in your life. However, the period or rest may not be as easy as it sounds. Staying silent and inactive may be equally difficult. But you should be focussed and utilise this period to build up your mental strength. Meditate or spend some time in solitude, if need be. Give yourself some time to recover from the difficult times like the trauma of family problems, career issues, financial woes, a break-up or departure of a loved one. However, don't think that the challenge is over. The struggle is very much there, you are only given some time to take a breather and replenish your energies.
Lesson:
It's time to take some time off your schedule and move away from your current circumstances for the time being and utilise this period to review your progress so far. The Four of Swords suggests you to re-think and re-arrange your priorities. If you have achieved an important milestone or overcome a major challenge, reflect on what has worked well and what hasn't, and make necessary changes in your plan.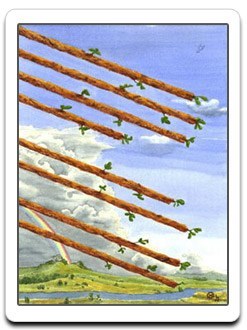 Sagittarius – Eight of Wands – upright
A symbol of change, motion and growth, the Eight of Wands card indicates that it shall be a smooth sailing for you on the various fronts of life. You will enjoy this progressive period and utilise it to reorganise your plans and move forward in top gear. You will have to move with faster speed but you will not be complaining whatsoever. If there is a major project on hand, expect it to get over at a really fast speed. Something very exciting and interesting shall draw your attention and keep you occupied. Your concentrated efforts will certainly bring you success, glory and fulfilment. Opportunities will knock your door, and now it is totally up to you how you decide which ones to embrace. Travelling is on the cards for you. In all likelihood, it will be a short-term trip.
Lesson:
You may be determined to get what you want, but on the downside, you will develop a tendency to be reckless and impatient. You may even end up leaving projects mid-way. It is extremely important that you finish the tasks on hand before you take up something new. You also need to keep in mind that you may take wrong decisions in your bid to move forward at faster pace. Make your plans and strategies very carefully, otherwise all your actions will generate no results.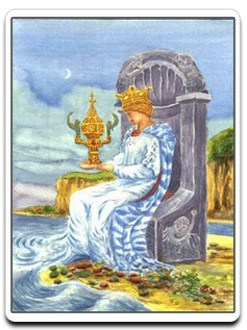 Capricorn – Queen of Cups – upright
The Queen of Cups card represents the multiple roles a woman often plays in her life. Sensitive, compassionate and authoritative, this Queen is well aware of the depths of her own soul. She is relaxed and secure. The appearance of this card in your readings indicates the presence of a mature female in you life. The divine, feminine influence that shall make your life blissful could also be you yourself. You may now be considerate and empathetic towards others. This card also tells you to listen to your inner voice if you feel lost for direction. You may be feeling very emotional around this period and you will carefully listen to others. Their advice and suggestions will not go unheard. But there is a strong likelihood that you will become passive and vulnerable, owing to emotions.
Lesson :
Are you feeling lost? Listen to your inner voice, you will find the answer have been searching for. No one but yourself can make you feel confident. You have it in you to help others and be someone's strength, so be generous if somebody asks for your help. Let your qualities come to the fore and realise that you do possess the emotional energy required to make yours as well as others' lives beautiful. However, make sure to channelise your energies in the right direction, otherwise you will become vulnerable.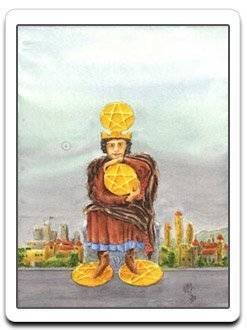 Aquarius – Four of Pentacles – upright
The image on the card of Four of Pentacles depicts a rigid man, who is tightly holding his pentacles/ coins. The appearance of Four of Pentacles in your readings indicates that you have reached your goals and achieved important miles stones in your life, earning great reputation in the society. However, it also indicates that you value material possessions and success more than you should. You don't want to take any chance and risk your earnings and achievements. Wealth and material belonging matter a lot to you. In fact, you determine your success and failure basis your material possessions. The Four of Pentacles indicates that you have successfully secured your future. Since your way of working has brought you where you are right now, it is least likely that you will make any changes in the way you approach things.
Lesson:
Opinionated and strong-headed, you always try to be practical and take tough decision. You have very clear idea about the things you want to possess and the lifestyle you want to live. As a result, you tend to worry unnecessarily about money and material success. The Four of Pentacles says that your inflexibility may cost you the joys of life. You need to learn to let go and take it easy.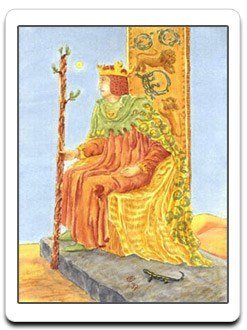 Pisces – King of Wands – upright
The King of Wands card depicts an image of a king who is holding a blossoming wand in his hand. The blossoming wand here represents life and creativity. This card signifies open, wise, positive, courageous, adventurous masculine energy. You will be feeling goal-oriented and ambitious, and the people around you, especially the men, will be supportive of your decisions and actions. You will be determined to achieve what you want. Now, think positively and take each step in the right direction. The appearance of King of Wands in your readings is a good omen, it says that you will now take the charge of your life and make things happen. Your love life, career, finances, family life, domestic matters – everything will gradually be back on the track. You are very clear about your goals which is an indication that you will not let emotions become obstacles in your path.
Lesson:
You may be feeling very positive but make sure that the positivity does not turn into arrogance and unnecessary aggressiveness. You need to know when to show restraint and when to go all guns blazing. It is good to believe in yourself but there is thin line between confidence and superiority complex, keep this in mind. Don't get carried away by your newfound enthusiasm and ambitiousness.