Taurus
Three of Swords – Upright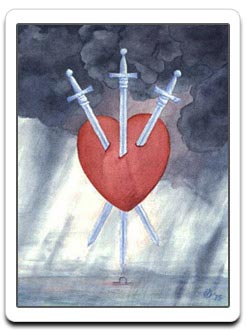 The Divine Tarot has drawn the card Three of Swords for the Zodiac Sign Taurus for the year 2013. The card appears upright in the reading. Read ahead to see what this implies for Taurus –
The cards Three of Swords depicts dark clouds pouring torrential rains in the background, and a heart pierced by three swords in the foreground – what else can this symbolise than betrayal and emotional turmoil. The card and its turmoil-filled depiction stirs up innermost feelings and forces one to examine the very heart of the matter. From here, one has only two choices: accept the circumstances and move on, or keep wallowing in the misery.
Interpretation
The Three of Swords signifies faith, conviction, fidelity, balance, realignment, contradiction, sudden pain, heartbreak, loneliness, betrayal and disbelief. Although, negative manifestations make this card unwelcome, it is not something to be sacred of. When this card is drawn, it indicates bitter altercation between you and your faith, maybe the faith itself has been brutally ripped apart by an event. Other calamities like war may also be indicated by this card. Additionally, the card may indicate some other kind of domestic instability or conflict.
What does the card say for 2013?
When Three of Swords card is seen with honesty, it gives an impression of the spiritual trinity – the Triune – as in Lord Shiva's mythical Trishul. The card goes to say that there exists a need to pay careful attention, and it's time to begin a candid observation of the inner-workings of the heart. In this reading, the card Three of Swords appears upright for the Zodiac Sign Taurus. This indicates that the Taurus people will need to look within, re-assess certain situations and be wary of untrustworthy people and unreliable situations in the year 2013.
In other words, this card should be treated as a wakeup call by the Taurus natives. It is a message to listen to the conscience, understand its reasons and assess what is of the utmost importance. Taureans should treat these urgings of intuition as a message from the divine and even as a blessing in disguise. This will give them a fine sense of awareness, which will help them remove mental blocks, leading them towards good judgement. It is important that they realize the truth, well in time, and have courage to get themselves out of tough, potentially self-destructive situations.
In short, in 2013, the Taurus natives will need courage and firmness, as they deal with the inner conflicts and potential issues, either stemming from their own inner world or the external situations. This will help them correct the wrongs, and stay happy.
Remember that Tarot is not a concrete science, and you will do well to use these readings as lessons of life, lessons that shall help you sail smoothly in the coming year. However, if you want a personalised, individual reading that will give you a more concrete picture, we suggest you get a Natal Chart based service. You can choose from any of our
2013
service, or you may simply get a
2013 Detailed Yearly Report.
Also, don't forget to follow our
2013 Love Pages
and
2013 Career Pages
to know what lies ahead for your Zodiac Sign in the year 2013. If Numerology enthuses you, we also have Number forecasts for the year 2013 in our
Numerology 2013 pages.