Scorpio
The World – Upright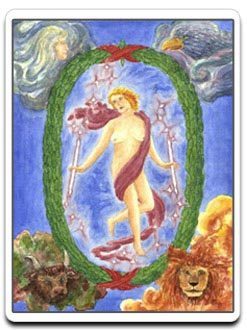 The Divine Tarot power has drawn the card The World for the Zodiac Sign Scorpio for the year 2013. The card appears upright in the reading. Read ahead to see what this implies for the Zodiac Sign Scorpio –
This card depicts a girl clad in just a scarf, and with a magic wand held in each hand, a garland of leaves surrounding her, symbolising that she possesses the power of both evolution and involution. In its entirety, the card symbolises the blending of the conscious and subconscious, and then merging of both with the super-conscious, the ultimate goal of human life.
Interpretation
This card – The World – has been drawn upright for the Scorpio people for the year 2013. It suggests that you are well on your way to salvation. All your desires will be fulfilled, and you will be rewarded adequately for all the hard work you have done. You will enjoy the freedom, if you so wish, to change your residence or profession without affecting your chances of success or happiness.
What does the card say for 2013?
Experiencing wholeness, realising their goals, getting intensely involved in whatever they may be doing, and enjoying their blessings in the here and now, are all foretold by the card The World for the Scorpio people in 2013.
This card is considered the most fortunate in the Tarot deck, and as it has come out upright for the Scorpio people, it can be safely predicted that they will succeed in both their material and spiritual pursuits this year. It also means that they will hardly encounter any obstacles in their path, and their journey towards their goals will be very smooth.
If this card happens to appear reversed, the natives should be gently warned not to expect a bed of roses in life, and should be encouraged to muster courage and positively march towards their goals. Being the last card of the deck, this one can have terrible connotations, but the Reader needs to keep in mind that the purpose of the Tarot is to make people think, and not to discourage them. It also means that they may be too stubborn to learn the lessons of life, or from their mistakes. They will not be far-sighted, and will be afraid of changing their residence or profession. Because of such inhibitions they may not yet have succeeded in their ventures.
Remember that Tarot is not a concrete science, and you will do well to use these readings as lessons of life, lessons that shall help you sail smoothly in the coming year. However, if you want a personalised, individual reading that will give you a more concrete picture, we suggest you get a Natal Chart based service. You can choose from any of our
2013
service, or you may simply get a
2013 Detailed Yearly Report.
Also, don't forget to follow our
2013 Love Pages
and
2013 Career Pages
to know what lies ahead for your Zodiac Sign in the year 2013. If Numerology enthuses you, we also have Number forecasts for the year 2013 in our
Numerology 2013 pages.