Pisces
Two of Wands – Upright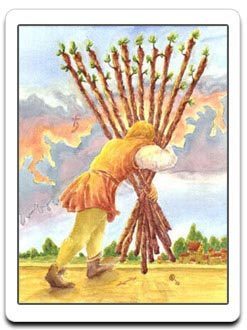 The Divine Tarot power has drawn the card Two of Wands for the Zodiac Sign Pisces for the year 2013. The card appears upright in the reading. Read ahead to see what this implies for the Zodiac Sign Pisces –
The Wands stand for a fire in the belly to make rapid business progress, and this card depicts just that: A rich businessman standing at the harbour waiting for his consignment to arrive. The ramparts of his mansion are laced with white lilies, signifying a pure mind, and red roses, adding a dash of ambition, together symbolising a level head on one's shoulders.
Interpretation
The upright Two of Wands signifies a person who commands attention and respect, has the courage to do what he wants to do, has originality and does not flinch from treading the path less-travelled. This card also means the native for which it has been drawn is magnanimous, and has the patience required to wait for the rewards of his hard work. It also signifies imaginativeness, daring and is a harbinger of good times ahead.
What does the card say for 2013?
The Tarot card Two of Wands has been drawn upright for the Pisces people for the year 2013. It expresses an intense passion that motivates the native to take action and goads them along on the way to achieving their goals. It also warns against being too hasty, so they should think carefully about all the pros and cons of a particular strategy before implementing it. The card encourages them to take stock of past events to more prudently control the future course of events.
The card portends that there are sure to be obstacles during the year 2013, but that they should pay heed to their intuition or their subconscious voice, more than the lip-service offered by pretentious people around them, to make headway towards their goals for the year. This will involve deep introspection and perhaps even some research before deciding any particular course of action.
Tarot is not a concrete science, and you will do well to use these readings as lessons of life, lessons that shall help you sail smoothly in the coming year. However, if you want a personalised, individual reading that will give you a more concrete picture, we suggest you get a Natal Chart based service. You can choose from any of our
2013
service, or you may simply get a
2013 Detailed Yearly Report.
Also, don't forget to follow our
2013 Love Pages
and
2013 Career Pages
to know what lies ahead for your Zodiac Sign in the year 2013. If Numerology enthuses you, we also have Number forecasts for the year 2013 in our
Numerology 2013 pages.