Aquarius
The Chariot – Upright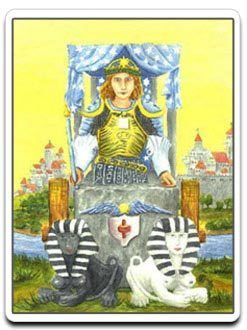 The Divine Tarot power has drawn the card The Chariot for the Zodiac Sign Aquarius for the year 2013. The card appears upright in the reading. Read ahead to see what this implies for the Zodiac Sign Aquarius –
This is an auspicious card which depicts a prince riding a chariot, clutching a wand wielding power, and with which he controls the sphinxes. The white sphinx symbolises the positive aspect of life, while the black one symbolises the negative aspect, and the prince has to balance the two, which he has managed to do effectively, meaning that he has achieved victory over his turbulent emotions.
Interpretation
The Chariot Tarot card signifies victory or accomplishment, a strong will-power, assertiveness and determination. This card bodes success in the endeavours of the native for whom it is drawn, though he will have to work hard for it. It shows, also, that he has managed to control his temptations, has overcome bad health and a financial crisis. He is a responsible person with a level head on his shoulders, and loves to travel in luxury.
What does the card say for 2013?
The Chariot card has been drawn upright for the Aquarius people for the year 2013. It indicates that they will achieve all their goals for the year. Success will embrace them, whether they are in a business of their own or whether they are professionals working for someone else.
The card represents tremendous focus and drive in order to accomplish the goal and win the battle.
An often over-looked aspect of a chariot-battle is that the best plan of attack in a chariot is from the side. This was a common tactic for ancient chariot warriors and is mentioned here for its symbolic meaning. The natives of this sign are therefore advised to look upon their problems from a different perspective to overcome the obstacles, or give them a different plan of attack for success.
Often, this card shows up when there is an obsession about work, a question about goals, or an issue of over-achieving. It suggests that if the natives have not already achieved their goals, they are well on their way to achieving them. The card also portends that there may be a lot of travel involved in the year 2013.
Remember that Tarot is not a concrete science, and you will do well to use these readings as lessons of life, lessons that shall help you sail smoothly in the coming year. However, if you want a personalised, individual reading that will give you a more concrete picture, we suggest you get a Natal Chart based service. You can choose from any of our
2013
service, or you may simply get a
2013 Detailed Yearly Report.
Also, don't forget to follow our
2013 Love Pages
and
2013 Career Pages
to know what lies ahead for your Zodiac Sign in the year 2013. If Numerology enthuses you, we also have Number forecasts for the year 2013 in our
Numerology 2013 pages.